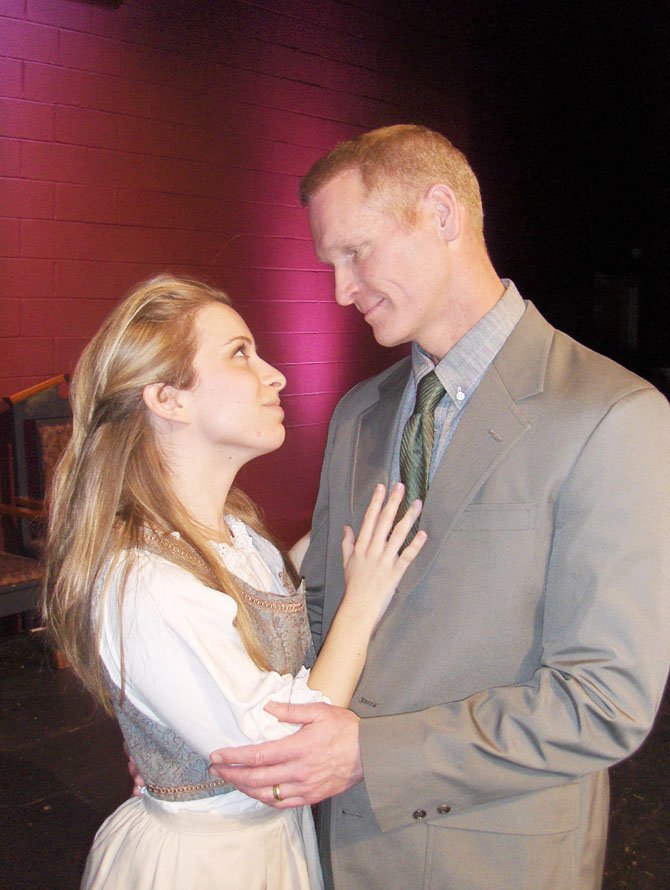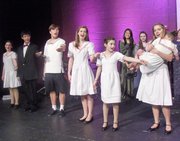 Centreville — The hills may not be alive with "The Sound of Music," but Centreville Presbyterian Church will be when its community theater presents this classic, Rodgers and Hammerstein musical.
Show times are Thursday-Saturday, Feb. 21, 22 and 23, at 7:30 p.m., and Sunday, Feb. 24, at 2 p.m. Tickets are $12 at www.centrevillepres.com, at the church office at 15450 Lee Hwy. in Centreville or at the door.
The cast and crew of 70 have been rehearsing since September, and Director Zoe Dillard is proud of them all. "We have great actors, very talented, with wonderful voices," she said. "And the music is absolutely stunning and beautiful, as is the integrity of the story."
Noting that Rachel Harrington portrays Mother Abbess, Dillard said, "I feel it's a role she was born to play. The first time she sang, 'Climb Every Mountain,' I got goosebumps. And it's been lovely watching the cast grow through rehearsals. I think everyone who comes to this show will enjoy it and will walk out humming the songs."
Heidi Ermlick is the choreographer; Don Halterman, producer; and Nancy Smith, music director. Smith's also conducting the 18-person pit orchestra.
Becky Hawryluk is head costumer, and Ken Nuss and Steve Moss designed the set.
The cast includes both adults and students from a variety of schools, including Westfield High and Deer Park Elementary. Dorothy Cervarich, 9, a Deer Park fourth-grader, plays Gretl, the youngest Von Trapp child.
The story's set in 1938 Austria, prior to the German invasion. It's based on the true story of a widower with seven children and their governess who intends to become a nun, but falls in love with him. Scenes take place in the Austrian Alps, the Von Trapp home and the abbey.
Chantilly High 2006 grad Erin Cooper of Poplar Tree Estates plays Maria. "She's a wholesome, God-fearing woman and postulate," said Cooper. "But she also has the capacity to love a man, so she has to learn she can live in the real world and that her life isn't in the abbey, where she just doesn't fit in. She also falls in love with all those kids, and everyone else can see that she and the captain are in love."
Cooper says she relates to Maria because they both have a passion for children and music. Her favorite song is "Do-Re-Mi" because she has "so much fun singing it with the children. It's where I interact most with them, and they're all so cute and fun to work with."
She said the audience will enjoy the play's "amazing orchestra and beautiful voices. There are so many duets, trios and group numbers, and they all sound wonderful. And because everyone stays in character so well, the audience will become absorbed in the show and will feel like they're really there."
Portraying Capt. Von Trapp is Springfield's Brian Johnson, an active-duty Air Force colonel in real life. He describes his character as a retired Navy captain and a strong person who's known great love. "But he's also known great loss and he's passionate about that," said Johnson. "So it's about his rediscovering love again and the love he has for his children."
Calling this role one of the favorites he's done, he said, "It's a challenge because Von Trapp has great depth and emotion, but it's shown in subtle ways. So I have to show how he changes in a more-subdued way." Johnson especially likes the song, "The Sound of Music Reprise" when the captain first hears his children singing and it opens up his heart again.
He said the audience will love this musical because "it's a well-known, uplifting, family show with a great story of a family overcoming great obstacles and persevering."
Westfield High 2008 grad Rachel Harrington plays the head of the abbey. "She's very regal, responsible and worshipful, and she's even a little motherly toward Maria," said Harrington. "She's got a soft spot in her heart for her."
She, too, loves her role because it's challenging. "It's outside my age range and Mother Abbess sings a powerful song. She has to deal with a lot of feelings between her and the other nuns and Maria, and it's a challenge to switch from one emotion to the next."
Not surprisingly, Harrington's favorite song is "Climb Every Mountain" because "it's simple, but has a great message to not give up, but to follow your dream, no matter what mountain you have to climb." She said people will love this show's family dynamic. "The cast as a whole is a family, and the audience will see this on stage," said Harrington. "There's lots of quality acting, and I think our obvious hard work will show through."
Laura Fraase Walsh, a 2006 Westfield grad, teaches music at Centreville Elementary and plays Elsa Schraeder, the captain's love interest before Maria comes along. "Their spouses have died and they're both wealthy and good friends," said Walsh. "Elsa's sophisticated and confident — a corporation president who doesn't understand children and isn't at all maternal."
She likes her part because "Elsa's kind of snotty, has an attitude and wants to command attention. She's used to getting her way and expects the captain to just fall in line with that." Walsh said people will love the Von Trapp children who've "worked really hard to act and sound like real brothers and sisters. And it's familiar music in a classic show."
Portraying Max is Dan Adams of Chantilly's Fair Oaks Farms community. "He's the most fun character in the whole play," said Adams. "He's an unabashedly egocentric charmer. He's a government official and organizes the festival where the Von Trapps will perform. There's just one serious moment for Max; the rest of the time, he's flip and playful with everyone."
Enjoying himself, Adams said, "It's a good group of people, and Zoe gives you lots of rein and tells you when you've bumped into the walls." As for the show, he said, "It's 'The Sound of Music' — how can you not love it?"