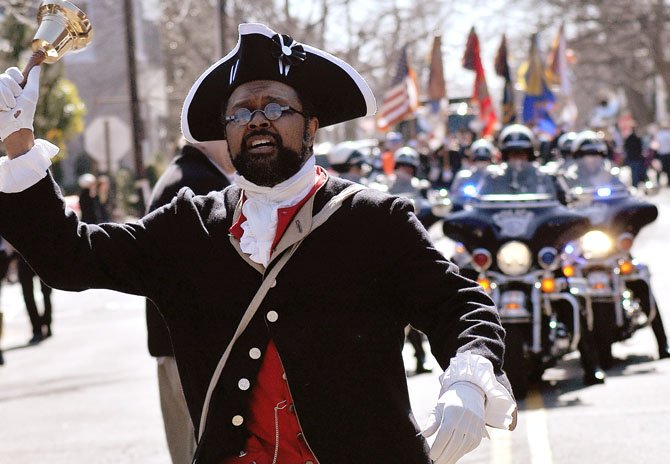 Alexandria — Thousands will join in the revelry for the 281st anniversary of George Washington's birth in his hometown of Alexandria. The city celebrates the General's birthday throughout the month of February with more than a dozen festive events, including the George Washington birthday parade, free admission to historic sites, popular walking tours, 18th-century dance classes, Madeira wine tastings, and even a cherry-themed competition among local restaurants.
On Monday, Feb. 18, the George Washington Birthday Parade, the largest and oldest in the country celebrating this Founding Father, will wind its way through a one-mile route along the historic streets of Old Town from 1 to 3 p.m. Annually the parade includes thousands of participants including historical, community and youth groups, bands, horses and canines. More events throughout the birthday weekend make it the cornerstone of a month of celebratory events.
Alexandria is a "best of" when it comes to the spectrum of sites and special events associated with General Washington. With Mount Vernon Estate, Museum & Gardens just eight miles south of historic Old Town, more than 140 places in Alexandria today are associated with the nation's first president, who conducted business, gathered with friends, worshiped, and even owned a townhouse in the city.
On the day of the George Washington Birthday Parade, Feb. 18, 2013, parking is free at the parking lots adjacent to the Eisenhower Avenue Metro Station; from here, a free DASH shuttle bus will take visitors downtown and back between 11 a.m. and 4 p.m. The Free King Street Trolley will also be in operation until 11 p.m. from the King St-Old Town Metro station.
The George Washington Birthday Celebration Committee maintains a 24-hour phone line that will report any change of status or the cancellation of any event (in case of inclement weather, for instance). Call the Events Hotline 703-829-6640 at any time. Event status will also be reported at www.washingtonbirthday.net/status.
George Washington Birthday Celebration Events
Thursday/Feb. 14
18th-Century Birthnight Ball Dance Classes. 7:30-9:30 p.m. at Gadsby's Tavern Museum, 134 N. Royal St., 703-746-4242. Tickets: $12 per class. In preparation for George Washington's Birthnight Banquet & Ball on February 18, learn 18th-century English country dancing from expert dance instructors.
Saturday/Feb. 16
Washington's Birthnight Banquet & Ball. 5:30-11 p.m. at Gadsby's Tavern Museum, 134 N. Royal St., 703-746-4242. Tickets: $100 and up for banquet and ball, $50 for ball only; reservations required, 703-746-4242. You are invited to the re-creation of this famous celebration of Washington's Birthday set in the year 1799. The evening includes an 18th-century banquet, English country dancing, dessert collation, character re-enactors, and General and Mrs. George Washington. Period costume optional; "after-five" attire encouraged. Dancing lessons are available prior to the Ball. Festivities begin at 5:30 p.m. Tickets for banquet and ball start at $100. To attend the Ball only, please arrive at 9 p.m. and tickets are $50. Reservations are required.
Sundays/Feb. 17 and 24
Walking with Washington Tours. 2 p.m. (tour lasts about 90 minutes). Meet at the Alexandria Visitors Center at Ramsay House, 221 King Street. Tickets: FREE, no reservation required. Did you know that there are more than 140 places in Alexandria today associated with George Washington? This popular tour is designed to show you some of them and improve your knowledge of Washington and his hometown, Alexandria. To check event status due to weather conditions, visit www.washingtonbirthday.net/status or call 703-829-6640
Sunday/Feb. 17
George Washington Birthday Classic 10-K Race and 2-K Fun Run. Race Starts at 8 a.m. (rain or shine). Cost per runner: $40. The race is now on Sunday morning. Race headquarters is the US Patent and Trademark Office, access from Eisenhower Avenue between Elizabeth Lane and John Carlyle Street. Start and finish will be in front of the Madison Building on Eisenhower Avenue. Certified racecourse through Eisenhower Valley. Cash prizes, T-shirts and refreshments will be provided for runners, with the proceeds benefiting George Washington Birthday Celebration. Maps, parking, and Metro access information may be found at www.washingtonbirthday.net/race
Revolutionary War Reenactment at Fort Ward Park
10 a.m. to 3 p.m. (Skirmish at 2 p.m.) at Fort Ward Park, 4301 W. Braddock Rd. Free. Historic camp and tactical demonstrations throughout the day including a Revolutionary War skirmish between the Redcoats and the Colonial Army.
Madeira Wine Tasting with George Washington
3-5 p.m. at Gadsby's Tavern Museum, 134 N. Royal St., 703-746-4242. Tickets: $45 per person. Enjoy the General's favorite drink as you toast birthday wishes to him! Taste a variety of madeira wines from Rare Wine, Inc. that were created specifically to showcase regional preferences along the nation's coastline - from Boston to Savannah! Reservations required.
Monday/Feb. 18
George Washington Birthday Parade
1-3 p.m. in Old Town Alexandria. Free. The nation's largest George Washington birthday parade marches a one-mile route through the streets of Old Town Alexandria. With nearly 3,500 participants including historical groups, youth from scouting groups, horses and canines, this is still a local, community parade in honor of one of the City's favorite sons. The parade starts at 1 p.m. at the intersection of Gibbon and S. Fairfax streets. The reviewing stand is located near City Hall's Market Square, at the intersection of King and Royal streets, and ends at Wilkes and S. Royal streets. See www.washingtonbirthday.net for maps and additional information.
Free admission to historic sites:
George Washington's Mount Vernon Estate and Gardens. 3200 Mount Vernon Memorial Hwy., 703-780-2000
Old Presbyterian Meeting House. 323 S. Fairfax Street 703-549-6670
The Lyceum: Alexandria's History Museum. 201 S. Washington St., 703-746-4994
Gadsby's Tavern Museum. 134 N. Royal St., 703-746-4242
Friendship Firehouse Museum. 107 S. Alfred St., 703-746-3891
Stabler-Leadbeater Apothecary Museum. 105-107 S. Fairfax St., 703-746-3852
Carlyle House. 121 N. Fairfax St., 703-549-2997
Christ Church. 118 N. Washington St., 703-549-1450
Thursday/Feb. 21
Madeira: America's First Wine
7-8:30 p.m. at Grape + Bean, 118 N Royal Street. Admission: $75, registration at www.grapeandbean.com or call 703-664-0214. Francis Scott Key penned the Star Spangled Banner with a cup of Madeira. The Declaration of Independence was toasted with Madeira, as was George Washington's Inauguration. Join GRAPE + BEAN for an evening with Jason Whiteside, Certified Sommelier on a tasting journey of America's First Wine. Taste eight different wines including the D'Olivera 1977 Terrantez and D'Olivera 1968 Bual.
Saturday/Feb. 23
Tea with Martha Washington
3-4:30 p.m. at Gadsby's Tavern Museum, 134 N. Royal St., 703-746-4242. Tickets: $25 per person; $20 per person in groups of six or more. Ever wonder how the first First Lady entertained her guests? What is the proper way to hold a teacup with no handles? Here is your chance to experience history with Martha Washington as she discusses 18th century tea customs as well as clothing and dancing of the period. Eighteenth-century tea includes the museum's special blend of tea, pound cake, dried fruit, and assortment of cookies. Party attire requested.