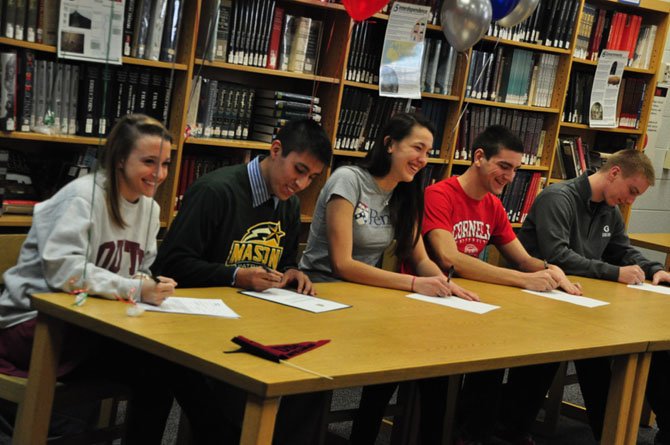 Six McLean High School senior athletes made their college decisions final Wednesday, Feb. 6, signing letters of intent for their schools of choice for next year. Soccer players Evelyn Robinson and David Galdo, along with football player Robert Longwell have been awarded scholarships to play next year, while Lexi Slotkoff and Kris Hobbs will play for Ivy League schools.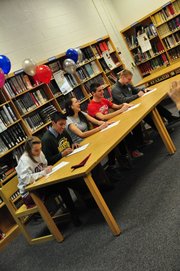 Robinson will attend the University of South Carolina to play soccer. Clyde Watson of McLean Youth Soccer, who coached Robinson to a national Under-17 Girls championship last summer, praised Robinson's quiet leadership style.
"She has great leadership abilities, not necessarily traditional 'rah-rah' leadership, not yet, but she leads by example in a way that's truly unique," he said. "Every coach should have at least one player like her. South Carolina might think they know what they have in her, but I guarantee they're selling themselves short right now."
Galdo was an All-District soccer player his sophomore and junior season, and he will play for Division I George Mason University in the fall. He also competes in cross country, where he submitted the team's best time in the fall.
"I've been very fortunate to see a lot of games in many sports, and David has always been a joy to watch as a soccer player," said Jim Patrick, the school's activities director. "He's got great intensity and a great motor, anyone watching him play soccer can see what a leader he is."
Slotkoff will play volleyball for the University of Pennsylvania next year. Coach Steve Stotler remembered how she was a late tryout her freshman year because her family was out of town, and praised the passion she shows for the sport.

"Our number one goal was to get her to fall in love with the game, and when she came back as a sophomore, she had fallen in love with the game," he said. "Her game took major steps, and you could see how much enthusiasm and excitement she had. Over the four years here, I couldn't have asked for a better student, athlete or all around person."
Hobbs will join the crew team at Cornell University. He won the 2,000-meter in 2012, and Patrick complimented his work ethic.
"Crew is one of the most demanding sports we have here, and Kris really put in the time, not only on winter workouts, but in the water as well," he said. "It's a tremendous accomplishment to be able to take those skills to Cornell, and it's a testament to his hard work."
Longwell will play for the Georgetown University football team as a long snapper in the fall. Bruce Patrick, special teams coach for the McLean Highlanders team, remembered recruiting Longwell to be a snapper going into his sophomore year.
Brice Patrick said he needed perfect special teams, which meant players who could snap the ball for extra points and field goals, that would be "automatic" when it came to good snaps.
"We were looking for kids that not only wanted to prove themselves, but wanted to help the team, Robert was one such person, and he took it to another level, going to camps, working with other snappers in the summer time," he said. "When it really paid off was that year playing Madison, and our first team snapper went down with an injury. To win the game, we needed a last-second field goal from a sophomore snapper and sophomore kicker, not the ideal situation. But the snap and kick were perfect and we won the game. And Robert just got better and better."