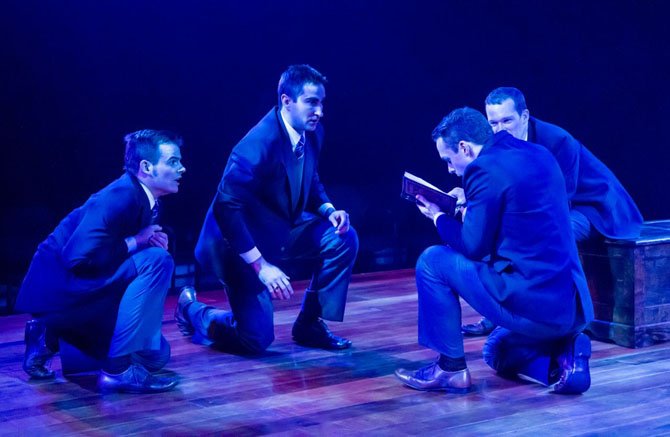 Photo Gallery
"Shakespeare's R&J,"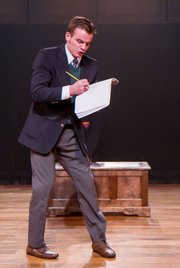 Click Photo for Flash
Arlington — At first glance, they are the model of Catholic school conformity, trained to recite in unison as they learn their catechism. But then an illicit copy of William Shakespeare's "Romeo and Juliet" is discovered, disrupting the lives of four prep school boys in "Shakespeare's R&J," now playing at Signature Theatre.
The all-male coming-of-age play by Joe Calarco marks two firsts in the 23-year history of Signature Theatre: It is the first staging of a Shakespearean classic as well as the first production performed in-the-round.
Alex Mills, Jefferson Farber, Joel David Santner and Rex Daughtery make a formidable foursome as classmates at an all-male boarding school who unearth a secret copy of "Romeo and Juliet" and steal into the night to recite the prohibited tale of adolescent passion.
As they take turns reading the play aloud, the young men become swept away in emotions that compel them to question the rigidity of their lives and confront their conflicted feelings towards friendship and homosexuality.
Frequently compared to "Dead Poet's Society," the poignant script is expertly guided by the playwright himself, with Calarco directing the ensemble cast through seamless transitions as two stories unfold at once.
"For much of the show you're hearing the text of Romeo and Juliet," said Calarco in the Signature notes. "But you're also watching these four young men change because of this play and its power to transform your world. It's really an ode to the teaching power of theatre."
Calarco's production team includes scenic designer James Kronzer, lighting designer Chris Lee and costume designer Kathleen Geldard. Yet aside from their matching school uniforms, there are no costumes and the most significant prop is a long, flowing red silk used to powerful visual effect in moments of passion, hate, love and death.
While the talented Mills, Farber, Santner and Daughtery initially take on multiple roles as the schoolmates read through the forbidden play, it is Mills and Farber who eventually emerge from the tightly-paced dialogue as Romeo and Juliet with a palpable passion as the doomed lovers.
To some, it is the greatest love story ever told, and in "Shakespeare's R&J," the tragedy of Romeo and Juliet's hunger for each other is evocative, mesmerizing and unforgettable.
"Shakespeare's R&J" is playing now through March 3 at Signature Theatre, 4200 Campbell Ave., Arlington. For tickets or more information, call 703-820-9771 or visit www.signature-theatre-org.