Burke — After the Washington-Lee gymnastics team finished its bar routines during the third rotation of the Northern Region meet, Generals coaches stood in a small group and watched their primary competitor, McLean, go through its beam routines with a region champion yet to be determined.
W-L moved to beam for the fourth and final rotation. After watching Maia Mandel and Mary Lynn Clark deliver stellar performances, head coach Joe D'Emidio had no doubt the Generals were back on top of the region.
Mandel posted a 9.6 on beam, Clark followed with a 9.65 and Washington-Lee repeated as Northern Region gymnastics champion with a score of 147.15 on Feb. 6 at Lake Braddock Secondary School. McLean finished runner up for the second consecutive season.
D'Emidio said he already knew the Generals had wrapped up the title after their performance on beam.
He wasn't the only one feeling good about W-L's chances.
"I felt we were in pretty good shape because everyone had such solid routines," Mandel said. "Everyone was really confident."
Last year, the Generals became the first W-L sports team to win a region championship in more than three decades. This year, they were even better. The Generals' team score was the best in the history of the W-L girls' gymnastics program. They achieved this feat despite having only one gymnast finish in the top three of an event — Kylie Auble placed third on floor with a 9.5.
"If you saw the awards, [just one] of the W-L kids were in the top three of any event. How do we win it? It was a team effort. … From the best girl all the way to the fourth girl, they all did well."

— W-L gymnastics coach Joe D'Emidio
"It was a team effort," said D'Emidio, who called the experience of repeating as region champion "exhilarating." "If you saw the awards, [just one] of the W-L kids were in the top three of any event. How do we win it? It was a team effort. … From the best girl all the way to the fourth girl, they all did well."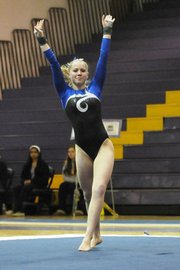 Clark was W-L's top individual finisher, placing sixth in the all-around with a total of 37.475. She finished fourth on beam and bars (9.5), and eighth on vault (9.55). Madeleine Sendek, Sophie Hatcher and Jennifer Laredo also competed for W-L.
The top-eight finishers in each event, the top-four all-around competitors and the top-two teams qualify for states.
One year after edging McLean by less than four-tenths of a point for the 2012 Northern Region crown, W-L widened its margin of victory over the Highlanders. McLean placed second with a score of 143, earning a state berth.
"They did good," McLean coach Courtney Lesson said about the Highlanders. "They fought for everything."
McLean's Jackie Green finished eighth in the all-around with a 37.425. She took fourth on floor (9.475) and sixth on beam (9.55). Lizzy Brown-Kaiser tied for third on vault (9.6) and placed eighth on bars (9.15).
Delaney Gallagher and Madi Schuman also competed for the Highlanders.
Chantilly finished third in the team competition with a score of 142.45. Woodson took fourth (141.45), followed by Stone Bridge (136.275), Yorktown (132.175), Oakton (131.75) and Lake Braddock (119).
Woodson senior and Patriot District all-around champion Simone Freidman won the Northern Region all-around title with a score of 38.35.
"It's unbelievable," Freidman said. "I really wanted this. I really wanted to be able to say I have the district title, I have the regional title … [and] it means a lot as a senior [to be] leaving and making my mark with the title."
Centreville's Ciara Hoernke and Hayfield's Molly Overstreet tied for second at 38.05, and Marshall's Morgan Stahl placed fourth (37.575).
Hoernke won bars with a 9.9, the highest score by any gymnast in any event. Freidman finished first on beam (9.85), and Stahl won floor (9.725) and vault (9.7).
The VHSL state meet will be held this weekend at Centreville High School. Team competition will begin at 3:30 p.m. on Friday, Feb. 15, and individual competition will start at 12:20 p.m. on Saturday, Feb. 16.