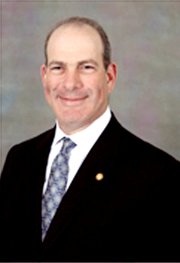 Richard Derner, DPM, FACFAS, of Burke, is the new secretary and treasurer of the American College of Foot and Ankle Surgeons (ACFAS), a national association of over 6,800 foot and ankle surgeons. Dr. Derner was installed to his position at the ACFAS 71st Annual Scientific Conference in Las Vegas.
The ACFAS Annual Scientific Conference, the largest educational meeting for foot and ankle surgeons in the U.S., draws attendees from around the world to discuss the most current techniques and technology for treatment of deformities, diseases and injuries of the foot and ankle.
"I am honored to serve the college and its members as the secretary and treasurer of this preeminent organization and look forward to working diligently with my fellow colleagues to further advance the high standards of ACFAS for the profession and the patients we serve," said Derner.
Dr. Derner practices with Associated Foot & Ankle Centers of Northern Virginia and is board certified in both foot surgery and reconstructive rearfoot and ankle surgery by the American Board of Podiatric Surgery. He is a member of the residency training committee with the Inova Fairfax podiatric residency program. Dr. Derner is also the chief of podiatric surgery at Stafford Hospital, in Stafford, Va., and is past president of the Virginia Podiatric Medical Association.
Dr. Derner earned his podiatric medical degree from the Ohio College of Podiatric Medicine, which is now called Kent State. He completed his podiatric surgical residency at the Doctors Hospital in Denver, Colo., and fellowship in traumatology in Ravensburg, Germany.
More like this story