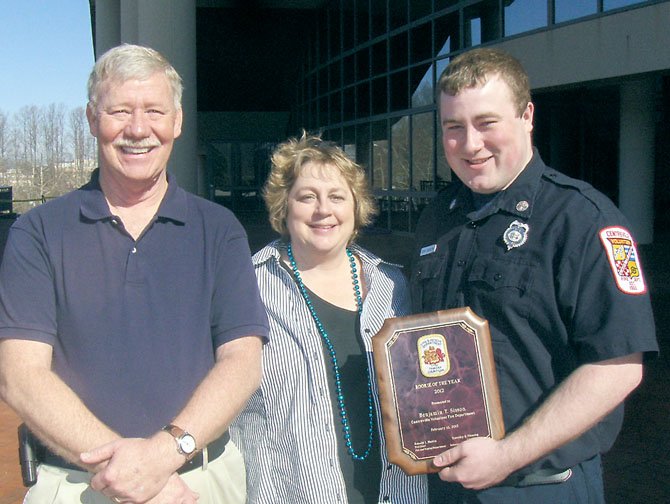 Ben Sisson is just 20, but he's just been honored as Fairfax County's 2012 Volunteer Rookie Firefighter of the Year. He received the recognition and a plaque last Tuesday, Feb. 12, along with other volunteer firefighters, during a ceremony before the Board of Supervisors.
"I feel honored," he said afterward. "I don't do it for the recognition; I just do things the best I can to serve the community."
A member of the Centreville Volunteer Fire Department (Station 17), Sisson was nominated for this prestigious award by VFD Chief Jeff Sargent and President Marva Williams. He was then selected by the Volunteer Fire Commission and county Fire Chief Ron Mastin.
SISSON'S BEEN ACTIVE with the fire department since age 14 when he joined its Explorer Post 1949. While there, he was promoted and served as captain. When he was 16, he joined the Centreville VFD as a junior member.
Meanwhile, he graduated from Paul VI Catholic High School in June 2011 and, that September, he began classes at NVCC to become state-certified as one of the youngest Emergency Medical Technician Basics in Virginia.
Sisson continued attending firefighter classes at the Fire and Rescue Academy, and in December 2011, completed the required national training enabling him to serve as a fully qualified, county firefighter. And during 2012, he racked up more than 2,000 hours of volunteer service while attending college full time.
Currently, besides going to NVCC, he's also completing the hospital rotations required to become a nationally certified paramedic—which he plans to achieve next January. Sisson's taking some fire-science technology classes, as well. We had open-cab firetrucks when I started; the technology has grown leaps and bounds since then."
During last week's ceremony, Sean Stokes with the county Volunteer Fire Commission said, "Members of Fairfax County's Volunteer Fire and Rescue Department are second to none when it comes to their commitment and dedication. They are the best of the best."
Presenting Sisson's plaque, volunteer liaison Jeffrey Katz said, "He garnered the respect of his supervisors and he's become a role model for others. He's always ready to help them and answer their questions."
Sisson's family, friends and colleagues were at the county Government Center for the ceremony, and no one was prouder than Sisson's father, George, who retired in March 2010 after serving more than 30 years with the county Fire and Rescue Department. He was Station 17's commander for six years, from 1992-98, and then headed the West Centreville Station 38 for 11 years, from 1999-2010. He's now a civilian fire inspector, testing fire-alarm systems for the Arlington County Fire Department.
"I'm very proud," said George Sisson. "Ben's picked up the torch and is still carrying it. We have video of him at 4 years old putting my boots on and falling over. Filling Daddy's boots was hard, but he's all grown up now and doing that. This was his focus since he was a child, and he's never wavered or wanted to do anything else."
GEORGE AND WIFE ANNE, of Fairfax's Hampton Forest community, have two other children, Nick, 19, who attends West Virginia University, and Abby, 17, a senior at Fairfax High. "I'm proud of all my children and particularly proud of Ben today," said Anne after the ceremony.
"Like most parents who send their kids to college and never see them, I feel like we sent Ben to the fire department and never see him," she continued. "Even though he lives at home, he's either at school or volunteering."
"Ben's always been interested in firefighting," said his mom. "Whenever George came home from work, Ben would grill him, asking what kinds of calls he ran that day, was it a fire, how many alarms and what stations responded. He wanted all the details. He's a really good kid, and there's no doubt in my mind this is what he was born to do."
Agreeing, Sisson said, "I'm absolutely following in Dad's footsteps and hopefully doing this as a career. Growing up and visiting him at work was always a highlight of the week for me; I was definitely influenced by his service. I have memories of playing around the firetrucks and getting a ride around the block in them. It was always fun, and now I get to do it for real."