Maeve McGrail couldn't leave her home for more than a week last month. She spent most of that time dragging herself between her bed and the bathroom.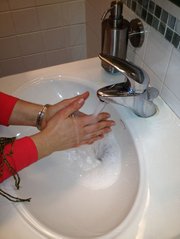 "It was horrible," said the Oak Hill resident. "I was so nauseous and I couldn't keep any food down. Plus I had to quarantine myself so that I wouldn't get anybody else sick."
McGrail had the stomach flu, an illness medical experts say comes from a virus that causes swelling or inflammation in the stomach and intestines. The good news is that while it is highly contagious and causes severe discomfort, it is generally not serious.
"The best way to prevent the stomach flu is by washing your hands, especially after using the restroom."
— Dr. Jean Glossa
Dr. John Symington, an internist and infectious disease specialist at Inova Hospital, says the most common type of stomach flu for adults is Norovirus, while Rotavirus is most often seen in children.
"The viruses are transmitted by fecal and oral contact," said Symington. "People don't always wash their hands or wash them thoroughly, and then they bring their hands to their mouths."
When the virus is contracted, the symptoms are often distinct "It comes on very suddenly with diarrhea, nausea, vomiting, maybe a fever and body aches," said Kathleen Dickman, who holds a doctorate in nursing and is an assistant professor of nursing at George Mason University in Fairfax, as well as a clinical practitioner at the Jeanie Schmidt Free Clinic in Herndon.
Dickman says the stomach flu is highly contagious. "When these symptoms occur, a child or person should stay at home. Classes and day cares have been known to close down because it can be epidemic."
Experts say soap and water are the strongest defense against the illness. "The best way to prevent the stomach flu is by washing your hands, especially after using the restroom," said Dr. Jean Glossa, medical director for Molina Healthcare and the Community Health Care Network of Fairfax County. "Most viruses and bacteria are passed from one person to another by unwashed hands. Also, it's important to handle food properly."
IF ONE CONTRACTS the stomach flu, what is the best course of treatment? "If a child is vomiting, then you really want the child to rest their stomach," said Dickman. "Just taking small sips of clear liquids like popsicles, Jell-O and Pedialyte until the stomach begins to settle." Dickson also recommends the BRAT Diet: "Bananas, rice, applesauce and toast are helpful if a child has diarrhea."
For adults, Symington adds, "Try to keep up with fluids that have salt and sugar in them. Chicken soup is a classic. It has protein and is something that many people can keep down. Sleep is an important factor in people getting better."
How does one know if what they perceive as stomach flu is actually something more serious? "The bottom line is that when the amount of nausea vomiting and diarrhea leads to light-headedness, you need to go the emergency room," said Symington. "You know that you're not able to keep up with your fluids."