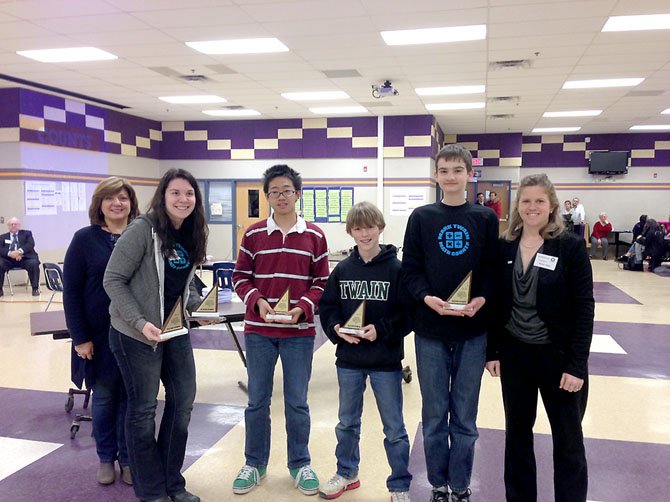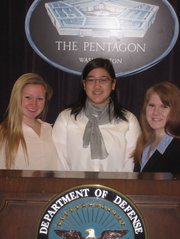 It doesn't take any higher level computations to evaluate the success of Mark Twain Middle School MATHCOUNTS teams, just simple fractions. Like 6/10: the number of times in the last decade the school's entrants finished first at the regional level; in the remaining 4/10, they were runners-up.
In the George Washington chapter of the 2013 Northern Virginia regionals, held on Saturday, Feb. 2, at Lake Braddock Secondary School, the all-eighth grade team of Caulton Wilson, Zachary Hayden, Peter Zhao and Arnav Gupta added another victory. Sweetening the win was a first place finish in individual competition by Twain's Hanhsen Zhao.
ALL FIVE TWAIN STUDENTS
Other Counters from George Washington Chapter
TEAM
2nd place: South County Middle School, team of Timothy Arndt, John Wilkie, Sarah Trans and Michael Brockway; coach Gina Evans.
3rd place: Carl Sandburg Middle School, team of Emma Cuddy, Christopher Letai, Robby Scherer and Olivia Scheidt; coach Bob Scherer.
INDIVIDUAL
2nd Place: Michael Caballero, Queen of Apostles Catholic School
3rd Place: Timothy Arndt, South County Middle School
4th Place: Emily Shin, St. Bernadette School
will compete at the state level of MATHCOUNTS, being held March 16 in Glen Allen, Va.
MATHCOUNTS is a 30-year-old nationwide competition aimed at developing not only advanced mathematical skills in middle school students, but also powerful problem-solving abilities. For most, it is an after-school activity—the Twain group meets for an hour and a half every Wednesday.
There is also an emphasis on taking math beyond the classroom, promoting its utility in and preparing young minds for mathematical, scientific and technical careers. So the stakes are certainly high, even without a winning reputation to uphold.
"When you come in the front door and look to the right, there's a big case," said mathematics teacher and Twain's MATHCOUNTS coach Rachel Moneypenny. "It's MATHCOUNTS MATHCOUNTS, MATHCOUNTS. The kids know we have a history of competing and doing well."
But despite the perceived pressure, her students keep things in perspective by focusing on the task at hand rather than the implications of winning or losing. Going to the regional and state competitions is more about the experience, according to Moneypenny.
"They like the challenge, that's the biggest thing," she said. "The kids who end up doing well are the ones who would do it anyway, who would do it even if there wasn't a competition at the end of the year, because they just enjoy problem-solving."
Now in her third year at Twain as an Honors Math and Geometry teacher, this is Moneypenny's second year with the
MATHCOUNTS team and first as its head coach. She and the team begin preparing each fall for February competition, going over concepts that may not have been covered in the school curriculum yet, such as special right triangles and trigonometry.
Moneypenny keeps a grade book of each student's performance and ranks them; by December, she takes the top 16 students, groups them in teams of four and begins mock rounds of MATHCOUNTS competition. From there she selects the top four students for the regional team, with those ranked five through 10 allowed to compete in an individual circuit.
In her role as coach, Moneypenny strives to act more as a facilitator of peer-based learning rather than simply a front-of-room teacher. Whether it's modular arithmetic or binary, once she's presented her students with the necessary tools, "I can sit back and listen to them argue about how to solve a problem," she said.
"For me, that's so integral to mathematics, science, to education—learning how to collaborate, but also bounce ideas off of one another. If you can talk about the math, that's one way to tell you really understand it."
Given the history, the Mark Twain MATHCOUNTS students look to be talking about math for years to come.