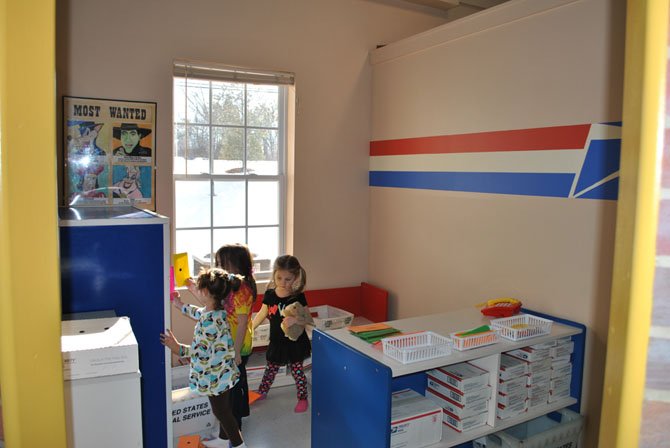 Chantilly — If all goes well, sometime in May, local children will have a place to go where they can climb, play dress up, use their imaginations in a pretend town setting and even celebrate their birthdays. That place is Kid Junction and it will open in Chantilly.
It'll be a 9,300-square-foot facility within an existing building at Route 50 and Pleasant Valley Road in the Lafayette Center. Kreative Minds LLC, Kid Junction's franchise owners, needed to obtain a special permit from Fairfax County to have a commercial-recreation use there. On Feb. 13, the Board of Zoning Appeals (BZA) approved the plan unanimously.
"We all are very excited," said co-owner Parag Pujara. "The special-permit approval will allow us to proceed further in constructing the cleanest and safest, indoor-amusement, family fun center to provide state-of-the-art children's entertainment in Fairfax County."
Kid Junction currently has two facilities in New Jersey, but this one will be its first franchise in Virginia. The owners chose Chantilly because of its large number of families with children, and the location is expected to draw customers from both Fairfax and Loudoun counties.
It offers recreational entertainment, customized children's parties, plus general-admission open play for children ages 18 months to 9 years. There's a fully enclosed toddler play area, plus a children's arcade including coin-operated ride-ons.
But what makes it different from other such places are its interactive areas encouraging children to engage in creative play. Its Kid Junction Village is a role-playing area with a country-town feel where children can pretend to do real-life activities.
Planned are a grocery store, pizzeria, animal hospital, post office, zoo and a costume shop where children can dress up. The zoo has felt-covered, robotic animals that children can ride, and there'll also be video karaoke, arcade games and a soft-play area with places for climbing and sliding.
The cost is $8.99/child for walk-in play, with discounts for siblings. Safety is also a top priority. Seven employees will be on the scene at all times, and children will always be supervised by their parents. "Parents are free, but children can't just walk in there alone," said Pujara. "And children and parents will be given the same hand stamp."
The New Jersey sites have won awards for cleanliness, and the one in Chantilly will be sanitized regularly and between parties. Hours of operation are expected to be Monday-Saturday, 10 a.m.-9 p.m., and Sunday, 10 a.m.-8 p.m.
Birthday parties will be held on the weekends, and party prices will vary according to the particular birthday-party package selected. The party room will hold 12-18 children, depending on their age. Parties last two hours and include free tokens for the games; 90 minutes is planned for play and 30 minutes for birthday cake and presents.
Pujara says the building's interior construction will start, the end of this month, and take about 8-10 weeks to finish. During this time, Kid Junction will be hiring for all the positions. "The staff will be highly-trained, with many of them CPR-certified," said Pujara. "We'll also be working with various vendors to design the facility to encourage role playing, socializing and the use of imagination."
In addition, he said, "We're trying to design a price plan for groups, military, police and firefighters. Family and summer memberships will also be on the table to make it easier for returning families. We plan to open in May and, if all goes according to the project plan, we may be booking birthday parties as early as April."
Pujara said the idea behind Kid Junction is to allow children a way to make their dreams come to life. "For children it's all about playing," he said. "But parents will quickly recognize and appreciate how our well-planned facility design continually encourages plenty of exercise, cooperative socialization, and positive and creative learning experiences."