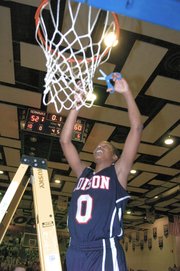 Fairfax — When South Lakes senior Mary Severin made a free throw with 5:54 remaining in the second quarter, the Edison girls' basketball team found itself in a 17-point hole in the Northern Region championship game.
Rather than chew out the Eagles for not playing well early in the contest, head coach Dianne Lewis tried to calm them. With nine out of 12 players on the roster being either a freshman or sophomore, the Eagles were nervous on the big stage. Edison started to improve and, after sophomore Lindsey Krisak buried a 3-pointer with 12 seconds remaining, Edison trailed 31-23 at halftime.
That's when freshman Jada Graves took over.
After she scored just one point in the first half, Edison coaches remained positive with the young guard, who exploded for 22 in the second half and led the Eagles to a 60-52 victory against South Lakes in the Northern Region tournament final on Feb. 23 at Robinson Secondary School.
Edison trailed 20-5 at the end of the first quarter and didn't record a field goal until junior Caitlyn Riley made a layup one minute into the second quarter, but a slow start didn't stop Edison from winning its first region title since 2007.
"We knew that they came out hard on us, our kids were tight [and] they were nervous --- it was clear they were nervous," Lewis said. "My job then was just to calm them down. I kept asking them to just calm down. [South Lakes] made their run, [the Eagles are] going to be fine."
Graves made sure of it, scoring 13 of her game-high 23 points in the third quarter as the Eagles battled back to take a 44-42 lead at the end of three.
"There really was never any doubt. ... We knew we had this game."

--- Edison sophomore Lindsey Krisak
"I know she was nervous," Lewis said. "She had a few plays at the beginning where she turned the ball over, she made some bad decisions. As a coaching staff, we said we're not going to jump on her because that's just going to compound it. Let's just keep encouraging her. You have to coach this group like that."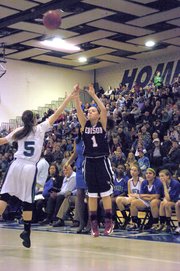 Graves got it done from the inside and from the perimeter. She made a trio of 3-pointers and also attacked the rim despite the presence of South Lakes center Abigail Rendle. The 6-foot-2 junior finished with 14 points, 12 rebounds and nine blocks, but was also whistled for three first-half fouls.
"I'm not scared of anybody," Graves said. "I was going to take it and try to get her in foul trouble. If she blocks it, [I'm] just going to go again."
South Lakes led 50-47 after a Rendle bucket with 4:27 remaining in the fourth quarter. Edison answered with back-to-back 3-pointers from freshman Megan Hendrick and Krisak, which gave the Eagles a 53-50 advantage and started a 13-2 run to close the game.
"There really was never any doubt," Krisak said about the Eagles overcoming a 17-point first-half deficit. "... [A]ll of our teammates were encouraging us. We knew we had this game."
Edison's Riley and Krisak each finished with 10 points. Krisak made three 3-pointers. Senior forward Sheila Sherrill scored nine points and Hendrick had eight.
Graves was named tournament MVP and Sherrill was named to the all-tournament team.
Edison finished runner-up to Mount Vernon in the National District, losing three times to the Majors during the season. South Lakes defeated Mount Vernon 46-45 on a buzzer-beater in the regional quarterfinals.
Edison will face Northwest Region runner-up Colonial Forge in the VHSL AAA state quarterfinals at 5 p.m. on Friday, March 1 at Robinson Secondary School.
More like this story