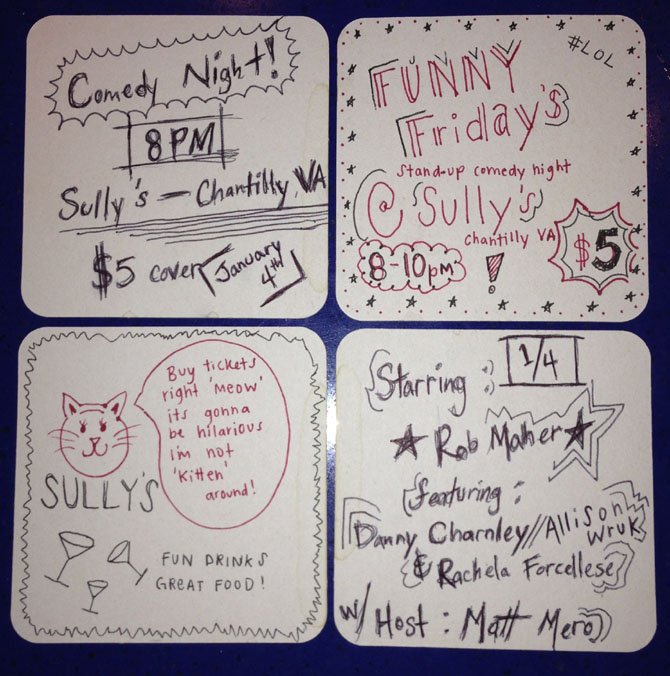 Sully's Restaurant is the place to be on Friday, Jan. 4, at 8 p.m., when Robinson Secondary grad Matt Mero joins headlining comedian Rob Maher in an evening of comedy. Sully's is at 14511 Lee Jackson Memorial Highway in Chantilly; cover charge is $5.
Also on the bill are up-and-coming, Washington, D.C., stand-up comedians Allison Wruk, Danny Charnley, Jon Yeager and Rachela Forcellese. Maher is a regular performer at the D.C. Improv and at clubs in Richmond. And he's a two-time finalist in Comedy Central's laugh-riot competition.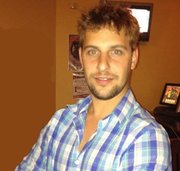 Mero is not only one of the comics, but also the host, organizer and promoter of this show, along with Yeager. Mero grew up in Fairfax and graduated from Robinson in 2003.

"After being pressured by some of my closest friends for about six months, I finally worked up the courage to get on stage and try out stand-up comedy for the first time, about a year and a half ago," explained Mero. "I have always enjoyed making people laugh, but that first time making an entire room full of people laugh was something on a completely different level—I was instantly hooked."
"My jokes touch on a wide variety of topics; from relationships to religion to dealing with a grumpy pet cat," he continued. "I like to point out the absurdity in our culture, sometimes by posing an equally silly and abstract hypothetical scenario. When it comes down to it though, I'm there to make the audience laugh. It's what I love to do, and it's what they came for. When I see or think of something that makes me chuckle, I write it down. Then I try and deliver it in a way that lets everyone get in on the joke."
THE JAN. 4 SHOW will also kick off a stand-up comedy series that Sully's will offer every Friday night from 8-10 p.m. Each week will feature a different powerhouse headliner, plus on-the-rise local comics, and Mero and Yeager will organize each event. "We're very excited to see this room grow into something amazing," said Mero.
He and Yeager have been hitting many of the same open-mic venues for the past year and, when the opportunity to perform at a place right in their own backyard came up, they latched onto it.
"We both have a lot of the same views about how a comedy show should be run," said Mero. "But most importantly, we both want everyone at a show to have a good time. We have tailored each Friday night to have a lineup of comics who are not only very funny, but whose sense of humor and style work well together. The audience should feel a smooth transition from comic to comic on any given night, as if they are reading a novel with each chapter written by a different author."
Basically, said Mero, "We just want everyone to have a good time. Jon and I are pretty laid-back guys. So we want a cool place for comics to come tell jokes to a willing audience, and a place [for] people who don't tell jokes to come and laugh at the end of the week."

The show is for audiences age 21 and up because of the mature language. But, added Mero, "We don't put on anyone who tells sexist or bigoted jokes; we have no tolerance for ignorance."
AS THINGS STAND NOW, he said, people living in western Fairfax County have to travel to Arlington or the district to see a comedy show. But at Sully's, said Mero, "We've brought the same comics you see in D.C. to Chantilly."
He says the area's top comedic talent will be on the bill. "Everyone in our shows is certifiably funny," said Mero. "These are people that Jon and I have seen and worked with, and we know they're hilarious. We're taking local comics who maybe haven't been in the game long enough to pick up any 'professional' shows and giving them a great stage and audience to work their magic."