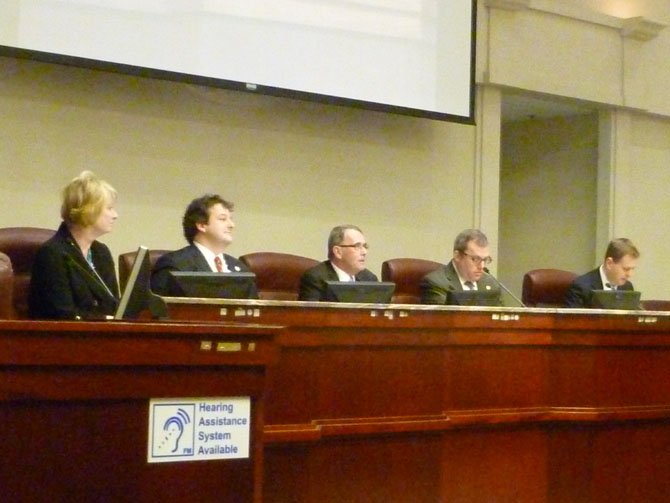 Arlington's representatives in the state legislature listened to the public's wishes for priorities to be addressed at the upcoming Virginia General Assembly session during a hearing on Friday, Jan. 4, in the Arlington County Board Room.
Scheduled to run from 6 p.m. to 8 p.m., the hearing lasted nearly three hours because of high turnout.
The public spoke about the expansion of Medicaid, stricter gun control laws and increased funding for various mental health services.
The delegation consists of Senators Barbara Favola, Janet Howell and Adam Ebbin, as well as Delegates Alfonso Lopez, Bob Brink, Robert Krupicka and Patrick Hope.
People advocating for mental health services requested that additional waivers be granted to alleviate long waiting lists and for independent living programs for those with intellectual disabilities.
One advocate, Betsy Greer, requested funding for jail diversion programs for adults with mental illness and co-occurring substance abuse disorder.
Greer also asked that the proposed amount of $750,000 for discharge assistance planning for mental health patients would only provide for 15 adults, which she said was "grossly inadequate when you consider there are approximately 160 at any given time on the departments' ready-for-discharge list."
She said that Arlington alone has 12 such patients.
Members of the Arlington Community Service Boards advocated for funding of the Northern Virginia Training Center, scheduled to close in July 2015.
As part of a settlement agreement between the Commonwealth and the Justice Department, any patients still residing in the NVTC three months prior to its closing would be required to leave. Members of the CSB asked either for the funding to keep the center open, or to delay the closing long enough to properly discharge the residents. According to CSB member Barbara Jones, Virginia already has almost no surplus of beds for most of 185 individuals with intellectual or developmental disabilities that need treatment.
Jones also said that the existing waiver reimbursement infrastructure does not cover the cost of care in Northern Virginia.
"The governor's proposal to raise Medicaid waiver rates by 25 percent for high-need individuals is a step in the right direction," Jones said. "However, even a 25 percent increase will not cover the cost of serving those with the highest needs."
Favola said that she saw a renewed energy around gun control at the hearing in wake of the Sandy Hook incident. [See related story, below].
"Nobody ever would have imagined that young children attending school would not have been safe," she said.
Favola said she hoped that there would be enough public pressure to get legislation passed on gun control not just at the General Assembly, but in Congress.
Favola said she is not looking to restrict individual rights; rather, she is concerned with the danger inherent with current options. She cited the loophole that allows people to purchase weapons at gun shows without their names being

submitted to the databases that check for prior criminal behavior or prior mental health commitments.