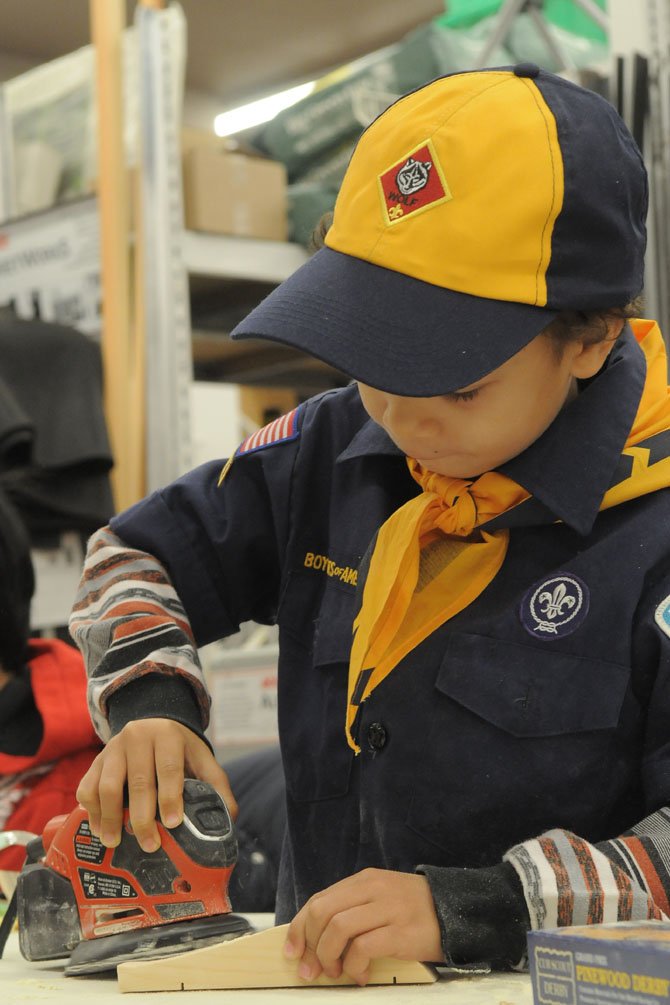 The jigsaw was buzzing. Wood shavings and fine sawdust lightly covered the work tables as dozens of cub scouts and their friends and parents worked on creating a Pine Box Derby winner.
For the 5th year, Rich Heilman, owner of the Old Town Hardware and father of a scout, is hosting a derby workshop offering the skills of local craftsman Jesse Cathell to rough cut car designs. Scouts are asked to have their car designs sketched onto the pinewood block before cutting. Heilman is also providing, small electric sanders, sandpaper and planning tools for the scouts to smooth out their designs.
The workshop which started last Saturday will continue on Jan. 12, 13 and 19 from 10 a.m. – 2 p.m. The Old Town Hardware is asking for a voluntary $1 donation per car cut. Donations plus 5 percent of all Pine Wood Derby-related products sold at the workshops will be shared between the Children's Miracle Network and the Boy Scouts of America Colonial District to offset costs of the Pinewood Derby District Finals.
Last year the event generated $800 in donations. Old Town Hardware is located at 809 S. Washington St. in Alexandria. For more information, call 703-879-0475