Three-year-old black Labrador retriever Bailey was abandoned in Hughesville, Md., while pregnant. The good news was that she was soon to become the one-thousandth dog rescued this year by Lab Rescue of the Labrador Retriever Club of the Potomac.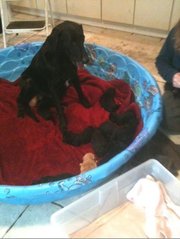 Bailey gave birth to 11 puppies in an animal shelter on Christmas Eve. On Friday, Dec. 28, Lab Rescue placed Bailey and her pups in a foster home in Fairfax.
The more than 1,000 dogs saved in 2012 is a new record for Lab Rescue, one of the most productive breed rescue groups in the country. The number of dogs saved by the group was 902 last year and has increased in each of the past six years, with a 53 percent increase in the four-year period since 2008. This increase appears to be due at least in part to the economic downturn.
Founded in 1991, Lab Rescue of the LRCP Inc. is a volunteer-driven, nonprofit organization that rescues, fosters and adopts Labrador retrievers to approved applicants. The group serves Virginia, Maryland, Delaware and Washington, D.C., as well as adjacent parts of Pennsylvania, West Virginia and North Carolina. Labs available for adoption can be seen, and donations can be made, at www.lab-rescue.org.