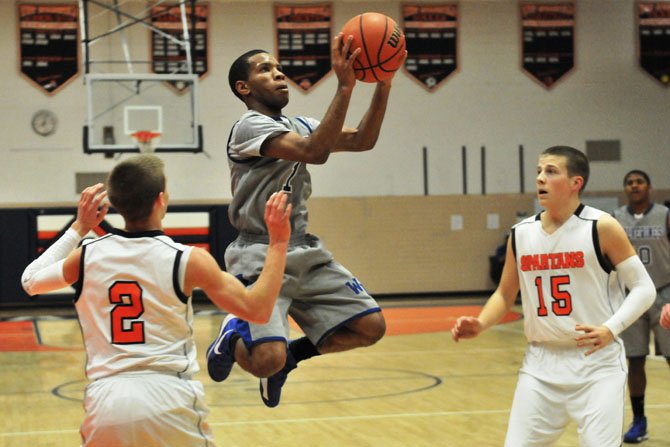 Springfield — Point guard Brandon Pressley knocked down a 3-pointer in the third quarter and later beat the buzzer with a jump shot. DeMornay Pierson-El showed off his athleticism at both ends of the floor. Caleb Williams and Javon Trice worked hard in the lane, grabbing rebounds and scoring in the paint. Kwame Camon picked up his offensive production in the second half and Devin Morrow nearly recorded a double-double.
The West Potomac boys' basketball team showed balance in a 68-52 victory at West Springfield on Jan. 8. Six Wolverines scored at least nine points as West Potomac remained in a second-place tie with Lake Braddock in the Patriot District standings.
Pressley led West Potomac with 15 points. Camon and Morrow each scored 11 points, and Williams Trice and Pierson-Ell each added nine.
Morrow also grabbed nine rebounds, including six offensive boards.
"No question, [Morrow performing well] makes things easier [on others]," West Potomac head coach David Houston III said. "Because he's [6-foot-6] with pretty long arms, when he's producing like that, it makes other teams focus on stopping him."
West Potomac entered the game having lost three of four, including a 56-47 defeat against Woodson on Jan. 4. The Wolverines built a 32-19 halftime lead against the Spartans and extended their lead to 28 points by the end of the third quarter, when Pressley's buzzer-beater gave West Potomac a 56-28 lead.
"I was pleased with the effort when we really had an opportunity to put them away," said Houston III, who played at West Springfield and was on the Spartans coaching staff for seven seasons before coming to West Potomac.
The Wolverines improved to 7-5 overall and 4-1 in the Patriot District. West Potomac will host Lee at 7:30 p.m. on Friday, Jan. 11.
"We're kind of finding ourselves," Pierson-El said. "We have our sparks, but I think we still need some team bonding and if we connect more outside of school and on the court in practice and everybody takes its seriously, I believe that we'll be tough to beat."