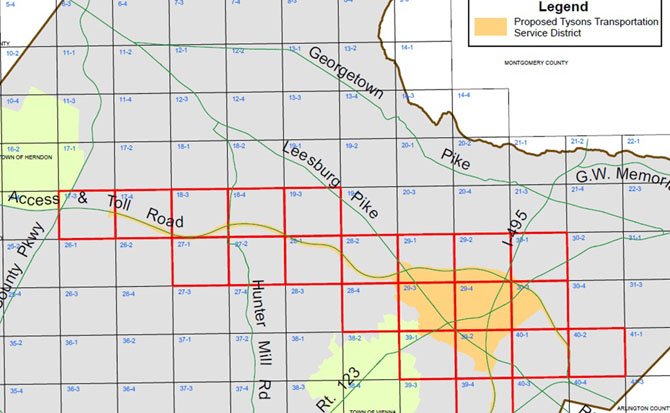 McLean — The Fairfax County Board of Supervisors voted eight to two to create a Tysons Corner Service District, which is expected to raise money to help cover the estimated $3.1 billion in new roads and public transit development planned for the area.
"Tysons is going to be a wonderful place, but right now it's got challenges. We're in the middle of a $6 billion investment, and we're doing things like requiring developers to build fields, which is extremely expensive in a build-out situation like we've got here, they're investing in parks, sidewalks, bike lanes, a significant infrastructure investment," said Supervisor John Foust (D-Dranesville), who put forward the motion at the board's Jan. 8 meeting. "Right now we haven't got the infrastructure, and for those people that live in Tysons it's been a detriment, so this is an opportunity resident being asked to pay a small portion of the big-picture projects that will make this area work."
The county estimates that the district will generate around $253 million, or eight percent of the total money needed. The property within the district is assessed at around $11.5 billion, and about 83 percent of the area is commercial land.
THE TAX RATE for the district will not be set until the board sets county budget, but it will be based on assessed property values. The Board of Supervisors also voted to create an advisory board to provide input on the tax rate. Foust also estimated that an early prediction for the assessment would be around $18 per month for residents.
Supervisors Linda Smyth (D-Providence) and Pat Herrity (R-Springfield) were the two dissenting votes against the district. Smyth cited a "folder of correspondence" about the proposed district.
She said letters from residents are universally opposed, while letters from developers are universally in favor.
"What the residents of Tysons are saying clearly is, 'wait a minute, we're not the developers, we're not the ones generating the need for these road improvements, we're not going to make a profit,'" she said. "Not only that, these road improvements are for the benefit of commuters, people driving into Tysons to work in the new commercial spaces. We haven't asked for one group of citizens to pay for such significant infrastructure when it is, as they see it, a matter of a bigger community interest."
She went on to say that "people are angry and very concerned about this way of doing business in Fairfax County… and frankly, I understand how they feel."
Herrity said he supported the idea of Tysons redevelopment, and the Tysons Corner plan and efforts to grow the county's tax base, but felt the plan unnecessarily raised taxes on members of the district.
"I think we have a clear and viable alternative to raising taxes on the residents and business of Tysons, and that's the restructuring of our profit dollars to include a greater focus on transportation," he said. "Clearly developers are paying for a portion of proffers, but it's not the level it should be.
Foust compared the situation to other special tax districts in the county, such as the ones that help fund the McLean and Reston Community Centers.
"There are areas of the county that have additional taxes, some pay substantially more than what we're talking about in Tysons, so this isn't the first time it's been done," he said.
The board also voted to create two transportation funds, which will be paid into by developers. One will help pay for the needed grid of streets, the other for larger-scale Tysons Corner transit improvement costs.
THE COUNTY estimates the Grid of Streets Fund will raise approximately $304 million. Developers will contribute $6.44 per square foot of commercial development, and $1,000 per residential unit built.
It is estimated the Tysons-Wide Fund will raise approximately $253 million, with developers contributing $5.63 per square foot of development, as well as $1,000 per residential unit built.
The total raised by the new funds is approximately 18 percent of the $3.1 billion in total costs.
County officials estimate that the $3.1 billion needed for improvements can be broken into four categories: large-scale, Tysons-wide improvements ($1.2 billion), transit ($865 million), grid of streets ($865 million) and neighborhood and access improvements ($77 million).
The grid of streets will be paid for entirely by developers, with more than $300 million coming from the Grid of Streets Transportation fund, with the rest coming from in-kind contributions.
Landowners will pay $506 million toward the Tysons-wide road improvements, and the county will publicly fund the remainder.
Transit and neighborhood and access improvements will be paid for publicly by the county.