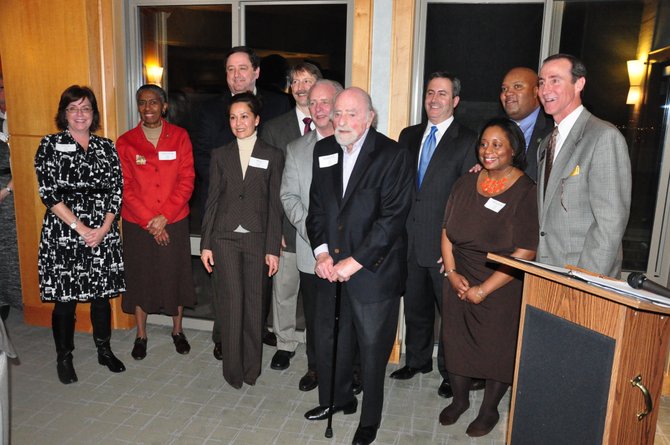 The Greater Reston Chamber of Commerce and Reston Interfaith named their 2013 Best of Reston award winners Thursday, Jan. 10. The annual awards recognize individuals, organizations and companies that represent the community's founding ideals.
"This year's gala will highlight a dynamic and collaborative business and community partnership. We are a community of socially conscious businesses and entrepreneurs, young leaders and tireless volunteers who care very much about the fabric of the community," said Mark Ingrao, president and CEO of the chamber. "Not only does Best of Reston recognize exceptional community service, we also raise critical funds for critical Reston Interfaith programs that build our community and improve the lives of more than 16,000 individuals in need."
Supervisor Cathy Hudgins (D-Hunter Mill) called Best of Reston one of the signature events in the community.
"Each year I'm amazed that we continue to identify people who understand, care and give back," she said. "Reston Interfaith and the Greater Reston Chamber of Commerce continues to acknowledge it to the people they recognize."'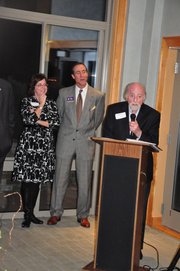 THIS YEAR'S AWARDS featured a new addition, the Vade Bolton-Ann Rodriguez Young Leaders Entrusting Our Community's Future Award. Named after Bolton, a past chair of Reston Interfaith and active community volunteer who passed away in 2011 and Rodriguez, former president and CEO of the Arts Council of Fairfax County who passed away in 2009, the award will be given to a young community leader.
"Ann and Vade had a passion and a gift for inspiring young people, they knew that they are the future of our organizations," said Kerrie Wilson, CEO of Reston Interfaith. "They inspired all of us with their joy and enthusiasm, and their work touched hundreds of thousands of lives."
This year's winner is Amanda Andere, a member of the Reston Association Board of Directors, CEO of FACETS and participant in many other nonprofits focused locally, nationally and internationally. She is also a deacon at her church, an adjunct professor at George Mason University and chair of Nonprofit NOVA, which coordinates with more than 100 local organizations.
"[Amanda's] engagement is broad and deep, with a service-above-self mentality. Her involvement represents philanthropic, civic, academic and social initiatives," she said. "We're not just celebrating the sheer volume of her efforts, but the impact she is having today and will in the future."
Doug Bushee and Ed Robichaud were the two individual community members recognized. Bushee founded the CORE Foundation in 2007, which assists in nonprofit fundraising.
Since their founding, CORE has helped the Reston Sprint Triathlon raise more than $130,000 for Reston Interfaith, and the Reston Youth Triathlon raise more than $15,000 for the Childhood Brain Tumor Foundation.
"His volunteering in the Reston Community spans over three decades," Ingrao said. "His philosophy and collaboration inspires individuals to recognize and utilize their own gifts for the collective good."
Robichaud teaches classes at the Reston Community Center and is a volunteer docent at the Reston Museum, where he also serves as a member of the board of directors.
He is also a founding member of the W&OD Regional Park Trail Patrol, a tutor at Laurel Learning Center and a violinist in the Reston Community Orchestra.
"[Ed's] record of volunteerism can be summed up in two words: diverse and unassuming," Wilson said. "His mantra is 'how can I help?' He's the first person to step up, he never says no, never asks for thanks."
The YMCA Fairfax County-Reston and Friends of the Reston Regional Library were the honored organizations this year. The YMCA was highlighted because of its childcare, wellness programs and summer camps made available to at-risk youth, as well as their after school enrichment program held daily at Dogwood Elementary School.
The Friends of the Reston Regional Library were founded in 1972. In recent years, with budgetary restrictions, they have stepped up their efforts to support the library, raising almost $100,000 per year for the library.
THE SMALL BUSINESS LEADER this year is Mayflowers at Reston Town Center, a floral studio. Owner May Bernhardt donated floral designs to many nonprofits such as the National Institute of Health for their Children's Gala, the Initiative for Public Art-Reston and the Best of Reston gala.
John Marshall Bank was awarded the Corporate Business Leader Award. In 2012, employees of the bank donated more than 140,000 hours of volunteer time.
They also held their annual golf tournament, which raised $30,000 last year, and donates $1,000 to a nonprofit for every branch opened. They also hosted a motorcycle ride to raise money for wounded warriors, provided holiday gifts through the Prison Fellowship and were honored in 2012 by the Boy Scouts of America for their assistance.
The Best of Reston gala will take place Thursday, April 11 at the Hyatt Regency Reston, from 6 to 10 p.m. Reston Founder Robert Simon will serve as this year's honorary chair. The gala will be the day after his 99th birthday.