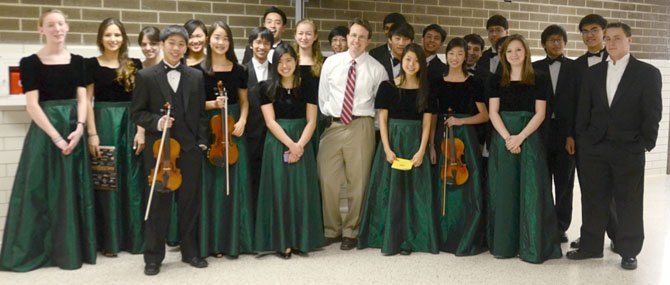 One hundred and sixty-five students from 11 middle schools and 14 high schools participated in District XII Junior and Senior Orchestras Jan. 4-5 at Langley High School. Guest conductors worked with the students for two days and presented a superb concert.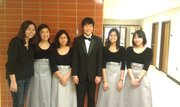 The Junior Orchestra performed Entrance of the Queen of Sheba by Handel, Slava! by Rimsky-Korsakoff, Waltz No. 2 by Shostakovich, Dreaming by Balmages, and America's Cup by Silva. The Junior Orchestra was conducted by Dr. Bob Gillespie, professor of music from The Ohio State University. Dr. Gillespie is responsible for the string teacher training program at OSU, which has one of the largest and most extensive string pedagogy programs in the nation. Dr. Gillespie is co-author of the Hal Leonard string method book series, Essential Elements for Strings and Essential Elements 2000 for Strings, which were the basis of the early string education program that most of the students received in the public school string education programs.
The Senior Orchestra performed American Folk Song Suite, arranged by Jarrett; Symphony No. 88 by Haydn, O Magnum Mysterium by Lauridsen, Siciliano and Allegro by Galliard, and Mock Morris by Grainger. The Senior Orchestra was conducted by Dr. Jorge Richter, who is on the music faculty of East Carolina University, where he conducts the ECU Symphony. A native of Brazil, Dr. Richter has previously served on the faculties of Truman State University, Oklahoma State University and the University of Tennessee. The students enjoyed the insights that Dr. Richter provided from his education in Brazil and the United States, as well as from performances in several countries.
District Orchestra was hosted by Dr. Scott McCormick, Langley High School Orchestra director. Auditions for
District Orchestra were hosted by Marci Swift, Kilmer Middle School Orchestra director.