The Great Falls Senior Center is serving up a Valentine of its own at its Feb. 5 event with guest speaker Chef Jacques Haeringer, executive chef of the L'Auberge Chez Francois of Great Falls. One of the area's most respected and innovative culinary personalities, Chef Haeringer will discuss the strong connection between food and love and then demonstrate how to make his own handmade chocolate truffles.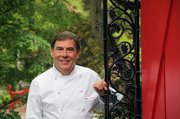 Food-and-love is a familiar theme in Haeringer's career, as evidenced by his "Two for Tonight Cookbook," with recipes that inspire romance through food and togetherness; "Les Desserts DVD," a collection of the restaurant's sweet indulgences; and his well-known cooking classes for couples. His popular PBS cooking show "Two for Tonight" introduced local and even national audiences to his philosophy that the combination of good food and love is a powerful, indelible ingredient to quality of life. His visibility extends to network television, radio, magazine articles and sold-out cooking shows.
Event sponsor for the February program is John Nugent & Sons, a family-owned and operated company since 1975. Nugent & Sons (www.nugentsons.com) specializes in the air conditioning, heating, plumbing and electrical needs of both residential and commercial customers in and surrounding Northern Virginia areas.
The Feb. 5 event will take place at the Great Falls United Methodist Church, 10100 Georgetown Pike, 11 a.m. to 1:30 p.m. Seniors who want to attend must reserve a space to be assured of seating. E-mail linda.fernald1@verizon.net or call 703-759-3721. Guests who require transportation to attend should call Maddie or Gene McCabe at 703-438-0810.
The Great Falls Senior Center was approved unanimously by the Fairfax County Board of Supervisors as a Center Without Walls in September 2012. Its goal is to present opportunities—through programs and activities—that enhance seniors' cultural, social and educational interests. The center has established a collaborative network of public and private entities in Fairfax County and the Great Falls area to make that goal a reality.