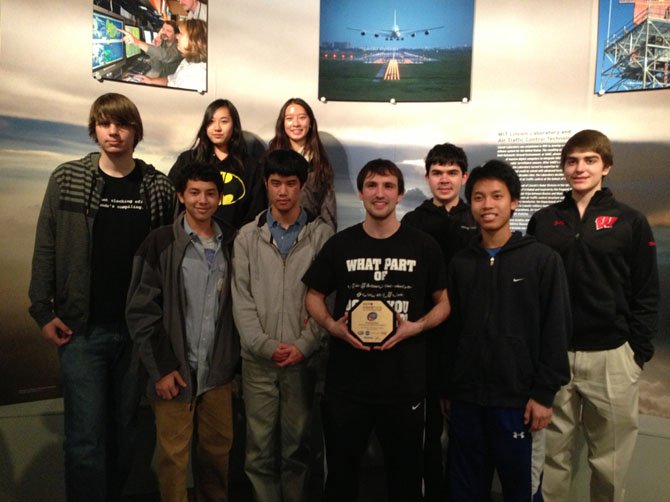 Potomac students were in Boston earlier this month competing in the ZERO Robotics Challenge, a competition sponsored by the Massachusetts Institute of Technology (MIT). During the competition, high school students programmed robots to travel aboard the International Space Station (ISS).
"We all had a lot of fun," said Justin Schumacher, a senior at Winston Churchill High School who plans to attend the University of Rochester next fall. "My other teammates were wonderful. It was a great collaboration."
The team, named the Steelmen, was made up of Alexander Fang, Peter Jablonski, Andrew Kee, Amy Lin, Jesse Pai, Samuel Platt, Eric Rosenberg, Justin Schumacher and Diana Yin from Winston Churchill High School. For several months leading up to the event, the students, guided by their mentors Kenneth Fang and Hadley Steelman, began the competition online.
After several phases of virtual competition, the Steelmen were selected as finalists, competing in a championship aboard the ISS. Astronauts Kevin A. Ford and Thomas H. Marshburn conducted the championship competition with a live broadcast that the students watched from an auditorium at MIT.
During the final found of competition, the Churchill team collaborated with other alliance teams from around the country. "We had to work virtually using SKYPE," said Kenneth Fang. "So they learned to work remotely like in the real world."
Although the Potomac students did not place in the top three during the competition, they said the experience was amazing: "We watched the astronauts run our program on the International Space Station," said Schumacher. "It was very cool to watch it running in real life. We spend a lot of time write our programs, so it was very cool to see the end."
The students spent four months preparing and competing in preliminary rounds of competition, including 2-D and 3-D simulations. "As a parent, I think it was an incredible experience. The students take these skills that they learn in school and apply them," said Julie Schumacher, mother of team member Justin Schumacher. "I overheard high-level academics saying, 'I wish this program had existed when I was younger.' The opportunities that students today have are incredible and inspiring."
The MIT Space Systems Laboratory (SSL) and Astronaut Greg Chamitoff created the competition with the goal of offering high school students opportunities to conduct research on the International Space Station. Experts say the program also helps build lifelong skills in science, technology, engineering, and math.
"The competition was inspiring for the students," said Kenneth Fang. "It pushed a lot of team work. Some are better at strategy, some are better at math. So the students learned how to recognize their strengths and work together.
Hadley Steelman, chair of the Computer Science Department at Winston Churchill High School, says the robotics competition helps build confidence and teaches students "how to resolve conflicts when working in a group, and most of all, understanding how they can apply what they're learning in school to solve real world problems. Most of them were already pretty confident in their problem-solving abilities and were fairly good at working with others, but the math, science and programming needed for this contest were intense. No one had the answers for them. They had to figure everything out and solve problems by themselves."