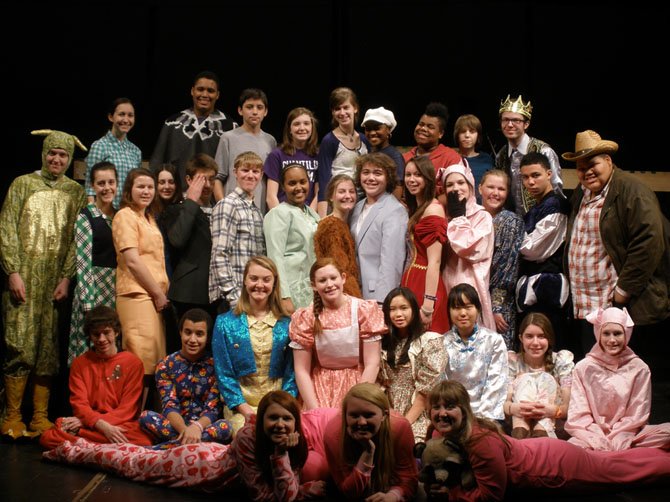 Chantilly — Mixed-up tales and laughs galore are in store for those attending Chantilly High's upcoming children's play, "Bedtime Stories."
Show times are Friday, Feb. 1, at 7 p.m.; Saturday, Feb. 2, at 2 and 7 p.m.; and Sunday, Feb. 3, at 2 p.m. Tickets are $5 at the door or at www.chantillyhsdrama.com.
Written by Chantilly Theater Director Ed Monk, it's the story of a dad who comes home from work and finds his pregnant wife tired and not feeling well enough to put their three other children to bed. They each want him to tell them a different bedtime story, and he does. But he messes up the details and hilarity ensues while he tells them about "The Princess and the Pea," "Chicken Little" and "The Boy who Cried, 'Dinosaur'" — all of which are acted out for the audience.
The play is double-cast, with 20 students in each cast. "We have so many talented kids, I didn't want to leave anybody out," said Monk. "So I wrote in some extra parts so we could get everybody in. It's fun to see the students from last year who've grown and matured as actors, plus the freshmen, to see what they can offer."
Monk said the play should have something for everyone. "We have silly, goofy stuff for the very little kids," he said. "But there are also funny jokes for the older ones, as well as things the parents will enjoy."
Sophomore Marcellus Willoughby portrays the father. "He's a good dad, but he's also a hardworking accountant who just wants to go home and sleep," said Willoughby. "It's really fun playing him — I get to yell at the kids, telling them not to wake up their mother. And the kids bring out the dad's imagination."
Everything in the play happens so fast, said Willoughby, that "the audience will feel like they're actually in the story. Mr. Monk writes wacky children's plays, so you never know what kind of part you'll get. And you act in a funny voice for the children."
Playing the prince in "The Princess and the Pea" is sophomore Thatcher Furgerson. "He's a snobby, rich prince who doesn't want to get married unless he's truly in love with a princess," said Furgerson. "But he eventually meets the princess of his dreams."
He said it's a terrific part "to get lost into and just enjoy yourself. He's different than my real-life personality. And in children's shows, you get to let yourself loose and do whatever you want, as long as it's funny. Kids will be able to relate to being told a story by their dad. So they'll have a connection between what happens in the story and what goes on in real life."
Sophomore Karin Frizzelle portrays the queen in that story. "She has a fine kingdom, but acts younger than she is and just wants to go and have fun, while her son takes over the kingdom," said Frizzelle. "But he can't do that until he's married, and he can't find the right girl."
She loves her role because "there are so many different things you can do with her character. And there are many comedic bits that I can really accentuate because of the way Mr. Monk wrote the script."
Frizzelle said characters are "so overdone, crazy and extravagant in children's shows that it's great to play in them. It's entertaining for the audience and for ourselves. In our show, children will like the colors, characters and plot; there are so many stories inside the main story that this play is very appealing to any listener."
Playing the prime minister and a servant/assistant to the queen is junior Madison Kambic. "She also helps the prince find a princess," said Kambic. "When she's around the queen, she's loyal and subordinate. But when the queen leaves, she can relax and be goofy."
"It's my biggest part, so far, at Chantilly, and I have a lot of lines to memorize," continued Kambic. "But since my character's lines aren't very exciting, I get to create an exuberant personality for her."
She likes being in this type of show because the costumes and makeup are bright, and "there's nothing like making little children laugh and being a goofball on stage. They'll like how the stories are kind of mixed-up. For example, the boy cries, 'dinosaur,' instead of 'wolf,' and the dinosaur is really friendly."
Similarly, said Kambic, "In 'Chicken Little,' the characters think the sky is falling, but it's really something else that's funny. And in 'The Princess and the Pea,' the characters are different, too — the prince isn't perfect and the queen wants to go to Vegas."
Sophomore Mia Rickenbacher plays Bo Peep in 'The Boy who Cried, 'Dinosaur.' Calling her a "simple-minded shepherd," Rickenbacher says Bo Peep is bored watching sheep all day. And when she sees a dinosaur and tells her parents, they don't believe her.
"This role has a lot of opportunities for comedy," said Rickenbacher. "I use a funny voice and walk." She said children will love the show because "they're stories they've heard and know, but they'll be surprised by all the plot twists."
In "Chicken Little," sophomore Hannah Grudi plays the title role. "She's nerdy, dorky and not the brightest," said Grudi. "She doesn't like to go places, and she follows around her friend, Peter the Raccoon. There's a lot of funny, physical stuff that goes along with my character."
Overall, she said, "We've got lots of silly characters, great jokes and crazy costumes, and I think children will really enjoy it all."