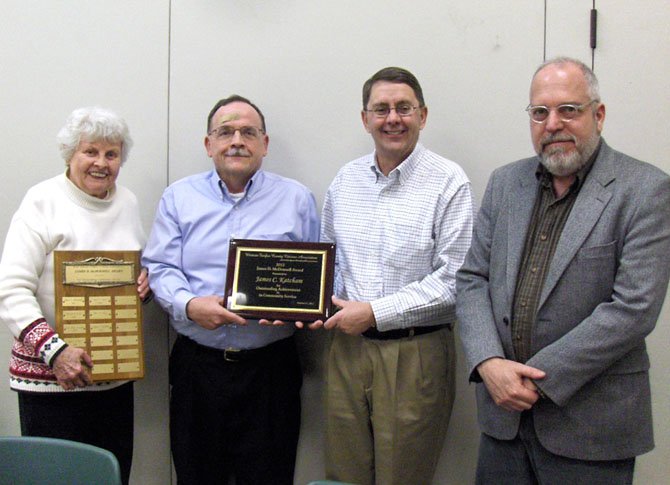 Centreville — Jim Katcham has been serving his community for years, so it's only fitting that he was honored Monday night with the James D. McDonnell Award for dedicated and outstanding community service.
Katcham is the West Fairfax County Citizens Association (WFCCA) president and chairman of its land-use committee, and so was McDonnell, who lived in Centreville's Virginia Run community and died several years ago.
"Jim McDonnell set a fine example for participating and being active in one's community, and he'd approve of this selection," said At-Large Planning Commissioner Jim Hart, who presented a plaque to Katcham during the Jan. 21 WFCCA quarterly meeting.
"Jim Katcham has been involved in his community, Centre Ridge Regent, for several years and represented it on the WFCCA," added Hart. "He's been on the WFCCA Land-Use Committee for 18 years and its chairman for more than 10 years."
Hart noted, as well, that Katcham chaired the Sully District's APR (Area Plans Review) Task Force multiple times and also served on other entities, including the VRE Task Force. He was recognized by a local paper as its Citizen of the Year in 2004 and was honored by Virginia's General Assembly in 2005.
"His leadership style works well with controversial subject matter," said Hart. "He listens to everyone's point of view and is always fair. His characteristics embody those we look for in the McDonnell Award recipient and we're pleased to present it to him."
Supervisor Michael R. Frey (R-Sully) then presented a plaque to Katcham. Frey also told him his name would be inscribed on another plaque listing all the McDonnell Award recipients throughout the years and hung on a wall inside the Sully District Governmental Center.
Shaking Katcham's hand and thanking him for his many years of service to the community, Frey added, "This is certainly an appropriate way to recognize you."
Pleased, Katcham said, "I saw Jim McDonnell at WFCCA meetings and saw his passion. So getting this award in honor of someone like that is a great honor."