McLean — McLean's Clemyjontri Park was founded in 2006 to provide a place for all children, regardless of ability of a place to play. While that goal has been achieved on the playground itself, the parking situation has been another story. Weekends often find the parking lot packed to capacity while open, with parents forced to park at nearby Langley Forks Park and walk along Georgetown Pike to Clemyjontri.
Fairfax County took a step toward improving that situation Wednesday, Jan. 23, opening a pull-off featuring 22 new parking spots (two handicapped) directly across Georgetown Pike.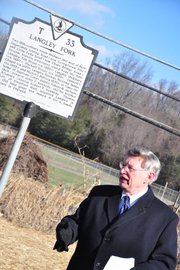 "We're very thankful to the Virginia Department of Transportation as well as Fairfax County for supporting this project," said Kevin Fay, the Dranesville representative on the Fairfax County Park Authority Board. "Clemyjontri is a victim of its own success, drawing youngsters and families year-round."
Maura Boss of McLean says that Clemyjontri is a favorite of her children, but she is often hesitant to go, knowing the parking woes waiting for her.
"This playground, in my opinion, is one of the best in the entire region, it's clean, modern and a lot of fun. But on weekends it sort of turns into a shopping mall during Christmas, every spot full and people idling, waiting for a spot to open up," she said. "I'm glad some more spots opened closer, I'd like it to be many more, but I understand they're limited by space. Kudos to the county for not standing pat on this issue, every extra spot helps."
The Virginia Department of Transportation administered a $300,000 Federal Transportation Enhancement Grant to fund the project, with the county providing $75,000 and the park authority providing $75,000 for clearing the site and landscaping, which will take place in the spring.
In 1999, the grant was requested to help with traffic calming measures along Georgetown Pike, and a portion was set aside for the pull-off in 2006.
The pull-off was originally supposed to be only five spots, along with a historic marker, but Supervisor John Foust (D-Dranesville), along with the park authority requested the expansion to 22 spots.
The historic marker mentions several nearby historic buildings, including the Langley Toll House, Langley Ordinary, Mackall House, Gunnell's Chapel, Langley Friends Meeting House and Hickory Hill, which has housed former Supreme Justice Robert Jackson, as well as then-Senator John Kennedy and then-Attorney General Robert Kennedy.
Lauren Mollerup, Transportation and Land Use director for VDOT, said they are looking at future safety improvement projects for the site, specifically a crosswalk from the pull off to Clemyjontri.