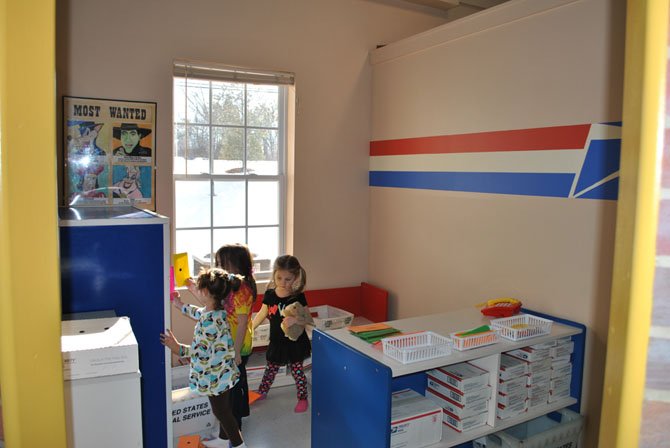 Photo Gallery
Kid Junction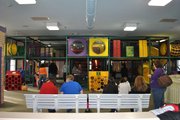 Click Photo for Flash
Chantilly — A place where children can engage in creative play and have birthday parties, too – that's Kid Junction. And Kreative Minds LLC – the three people who'd own what would be Kid Junction's first franchise in Virginia – hope to open it in Chantilly.
It would be a 9,300-square-foot facility within an existing building at Route 50 and Pleasant Valley Road in the Lafayette Center. But first, it needs to obtain a special permit from Fairfax County to have a commercial-recreation use there.
The owners and their architect came to the Jan. 15 meeting of the West Fairfax County Citizens Association (WFCCA) Land-Use Committee and explained their plans. And when they were done, the panel voted unanimously to recommend approval to the county Board of Zoning Appeals (BZA) which will have the final say.
Pleased with the location, co-owner Alpa Sachde said, "Our feasibility study showed a high population of families with kids in Chantilly. And we could attract business there from both Fairfax and Loudoun counties."
Currently, Kid Junction has two facilities in New Jersey. It offers recreational entertainment, customized children's parties, plus general-admission open play for children ages 18 months to 9 years. There's a fully enclosed toddler play area, as well as a children's arcade including coin-operated ride-ons.
But what sets it apart from other play places is its interactive play areas. "This isn't just aimed at kids playing," said co-owner Srikanth Duddala. "Here, they'll get a chance to use their imaginations."
"Our Kid Junction Village is unique," said Sachde. "It's a role-playing area with a country-town feel where children can pretend to do real-life activities."
Planned are a grocery store, pizzeria, animal hospital, post office, zoo and a costume shop where children can dress up. "We observed a Kid Junction in New Jersey and the kids have a blast playing there," said Sachde. "The zoo has felt-covered, robotic animals that the children can ride." In addition, there'll be video karaoke, arcade games and a soft-play area with places for climbing and sliding.
There's also a kitchen, but not for cooking – just for warming food. "We're going to try to be a nut-free facility, so people won't bring in their own snacks," said Sachde. "And there'll be birthday parties on the weekends."
The cost is $8.99/child for walk-in play, with discounts for siblings. The franchise dubs itself, "Kid Junction – the ultimate party experience," and party prices vary according to the particular birthday-party package selected.
"Parents are free, but children can't just walk in there alone," said co-owner Parag Pujara. "And children and parents will be given the same hand stamp." Seven employees will be on the scene at all times, and children will always be supervised by their parents.
The New Jersey sites have won awards for cleanliness, and Pujara said the one in Chantilly will be sanitized on a regular basis, as well as between parties.
Architect Mark Mittereder said there'll be plenty of parking all around the building and safety will be a top priority. "The rear entrance is an emergency exit only, and it's easy to see people entering through the front," he said. Mittereder anticipated the hours of operation being Monday-Saturday, 10 a.m.-9 p.m., and Sunday, 10 a.m.-8 p.m.
"I think you'll meet a demand out here for birthday parties," said WFCCA's Chris Terpak-Malm. "I think it's a great location."
"We also like this [franchise] because it has a mixture of games that we haven't seen in this area," replied Pujara.
He said the party room holds 12-18 children, depending on their age. Parties last two hours and include free tokens for the games; 90 minutes is planned for play and 30 minutes for birthday cake and presents.
"How long in advance would you have to reserve it for a party," asked BZA member Jim Hart. "Usually 30 days in advance," answered Pujara.
"All the activities are indoors?" asked Hart. And Pujara said yes.
In response to a question from the WFCCA, the co-owners said they'll be doing background checks on their employees. Mittereder said the expected opening date is in May.
Now that the WFCCA has given the proposal a thumbs-up, its next stop is the BZA for a public hearing on Feb. 13. The WFCCA approved the project subject to a subsequent approval from county staff, and Hart said the BZA members "should get the staff report about a week before" the public hearing.