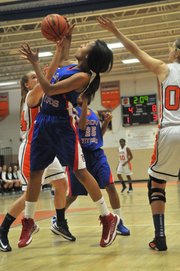 Springfield — T.C. Williams guard Christian Roberts personally outscored West Springfield 15-14 in the first half of Monday's contest and showed no signs of slowing down in the second.
The senior converted a three-point play in the opening minute of the third quarter to extend the Titans' lead to 14 points. But later in the period, Roberts came out of the game after injuring her left wrist while playing defense. With Roberts, who had scored 18 of TC's 31 points, on the bench, West Springfield closed the third quarter with a flurry, outscoring the Titans 11-3 during the final two minutes of the quarter.
With a double-digit lead trimmed to three entering the fourth quarter, the Titans' mental toughness would be tested. But rather than fold, TC regrouped and handed the West Springfield girls' basketball team its first home loss since 2009.
THE TITANS defeated the Spartans 50-39 on Jan. 28 at West Springfield High School, leaving the teams tied atop the Patriot District standings. According to the WSHS athletics Web site, it was the Spartans' first home loss since falling to T.C. Williams on Feb. 3, 2009. West Springfield had won three Patriot District championships, made a trio of state tournament appearances and captured one Northern Region title since the last time it lost on its home floor—and the Titans ended the streak with their most productive player of the evening sitting on the bench for the final 10 minutes.
"Christian's a senior and she came up and played like a senior tonight," TC head coach Kesha Walton said. "We were feeding off her energy—she was hot early. I think that when she went out initially, I think we kind of panicked. I talked to them, settled them down a little bit and said we can still do this."
"People were thinking it was a fluke that we beat them the first time. Now we proved that it wasn't and we're definitely a better team."

--- TC sophomore Rejoice Spivey
TC entered the fourth quarter with a 34-31 lead. Rejoice Spivey scored on a reverse layup and Megan Laychak and Angie Schedler each buried a 3-pointer to extend the Titans' lead to 42-31 with 5:33 remaining. West Springfield eventually pulled to within five, but TC's Grace Peterson answered with a three-point play, giving the Titans a 47-39 advantage with 2:08 remaining in the contest.
"Coach just told us to calm down," Spivey said. "We trusted each other. Even though Chris was out, we've got other people on the court that can make plays, so we just made plays."
For the first two-plus quarters, the Titans didn't need anyone else to make a play. Roberts scored eight points in the opening quarter, beating West Springfield off the dribble and knocking down jumpers. She added seven points in the second, including a 3-pointer from the left wing with 3:12 remaining in the first half. Roberts' three-point play in the opening minute of the third quarter gave her 18 points for the night.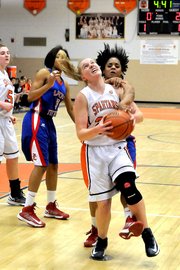 Roberts credited her success to a hot shooting hand and the Spartans' decision to play man-to-man defense.
"When they play their zone, it's hard to score," Roberts said. "But when they [play] man, it's like [it's time to] go to the basket and score on them. They can't really match-up that well with us because of [our] quick guards. If they're giving it to me, I'm going to take it."
West Springfield junior Amy Berglund spoke after the game about the Spartans' defensive shortcomings.
"[The Titans] were just attacking," she said, "and we weren't able to stop it."
Walton said Roberts has played well of late.
"She understands what her role is and she's accepted the challenge of being in that senior leadership role," Walton said. "I talked with her before the game and I said, 'Look, you're a senior. This will be a shining moment for you. In the past three seasons you weren't able to beat them on their court. This is a great opportunity—you won't get it again.'"
TC defeated West Springfield for the second time this season. The Titans won 56-42 on Jan. 4 at T.C. Williams High School, handing the Spartans their first Patriot District loss since 2009.
WEST SPRINGFIELD had won the last nine meetings between the teams, including victories over TC in the 2011 and 2012 district championship games and the 2011 Northern Region final.
"People were thinking it was a fluke that we beat them the first time," Spivey said. "Now we proved that it wasn't and we're definitely a better team."
Spivey finished with 12 points for TC and Schedler added nine.
Berglund led West Springfield with 18 points. Freshman guard Haley Blankinship finished with seven.
"[Blankinship] likes attacking the bucket and that's good," West Springfield head coach Bill Gibson said. "Some of them fell tonight and that was good. It definitely helped keep us in the game."
TC defeated Lee 49-20 on Wednesday to improve to 12-7 overall and 9-2 in the Patriot District. Roberts said via Twitter she planned to play on Friday, Feb. 1 when TC will travel to face South County at 5:45 p.m.
West Springfield beat South County 70-32 on Wednesday, improving its record to 16-3 overall and 9-2 in the district. The Spartans will travel to face West Potomac at 7:30 p.m. on Friday, Feb. 1.