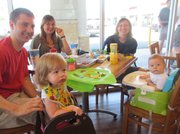 There are hamburgers and then there are hamburgers freshly-ground from humanely-raised, grass-fed, free-range beef … it's also USDA-certified organic. There are fries and then there are fries cooked in olive oil. And they're here, in Vienna, freshly grilled burgers with made-to-order toppings. The hamburgers, the caramelized onions, the fries, the veggie burgers, are at the new Elevation Burger in Danor Plaza on Branch Road. And, already, in just a few weeks, Elevation Burger has a following.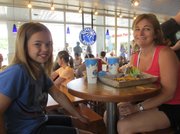 And on June 22, when Vienna Elevation Burger celebrated its "grand opening," the restaurant was swamped with customers, mostly families. And restaurant Manager Patty Wentworth said it's like that every Saturday.
"We were here last Saturday and came back mostly because the food is good and the place is family-friendly," said Jenny Mutryn, sitting at a food-laden table with her husband David, their two young children and Jenny's sister. "The humanely-raised beef is part of it."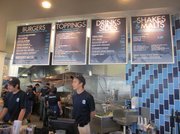 OWNED BY franchisees Lisa and Neeraj Vohra of Alexandria, the Vienna Elevation Burger is the Vohras' second store. When the first Elevation Burger opened in Northern Virginia about six years ago, in Falls Church, the Vohras brought their 16-year-old daughter to eat there. And not just because the beef was organic and healthy. The Vohras loved the taste of the burgers.
"We pay a lot of attention to what we eat," said Neeraj Vohra. "We like to know where our food is coming from.
"If we were willing to drive 30 minutes to get there [to the restaurant in Falls Church], we thought there were other people who felt like we did." And, so, the Vohras opened the company's first Northern Virginia franchise—in Arlington—four years ago.
"We do have a sinful product," said Vohra. "And that's our milkshake, made the old-fashioned way with premium ice cream."
While customers order at the front counter—behind an acrylic wall encasing grassy blades—the orders are brought to the table by servers. The food is made from scratch and toppings for the burgers, beef and vegetarian, include aged cheddar cheese, organic bacon and hot pepper relish. Unlike most restaurants, Elevation Burger posts the calorie-count of every item, including the toppings and the milkshakes. Milkshakes come in three ice cream flavors with fresh fruit blended in. Just so you know, the blueberry addition adds 25 calories.
The restaurant has a futuristic self-service soft drink machine. There are more than 100 flavor combinations … if you're counting.
Food is served on aluminum baking pans rather than traditional quick-casual service trays. The pans are not the only distinguishing quality. The dining area boasts multiple sustainable-resource elements. The shop's flooring is made of bamboo and the tabletops, striking in design, are made of sorghum. Counters are sorghum compounds, as well. Equipment is energy-efficient.
ON GRAND OPENING DAY, Elevation Burger handed over to the Autism Society of Northern Virginia a donation of $2,167.05. "We are a part of the community in every place we are," said Sara Mahaffey, Elevation Burger franchise marketing director.
Vienna Elevation Burger Manager Patty Wentworth lives in Herndon; assistant manager Fausto Gomez lives in Vienna.
Rising sixth grader Elizabeth Eastham of Vienna, who says she has eaten at the restaurant before the grand opening, said she "really" likes the burgers. "The fries are really good, too," she said.
Added her mom, Rebecca Eastham, "I think it's better that animals are allowed to live the life they were meant to live. That's a plus."
Elevation Burger, at 142 Branch Road, S.E., is open daily, 11 a.m. to 8 p.m. To learn more about what makes an Elevation Burger an Elevation Burger, go to www.elevationburger.com.