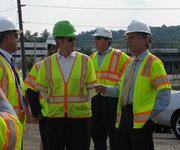 Standing on the side of I-95 at the height of rush hour on Tuesday, June 25, Governor Bob McDonnell looked at the construction around him with optimism. Construction on the 95 Express Lanes is moving along as planned, and the accelerated schedule for a 29-mile long project is something to be proud of, McDonnell told the VDOT officials and partners from Fluor-Lane that were in attendance.
"This project is among several transportation improvements that will move traffic with greater ease, helping commuters get to their destinations sooner," McDonnell said.
McDonnell was joined by Virginia Transportation Secretary Sean Connaughton, the VDOT Northern Virginia District Administrator Helen Cuervo, Kevin Ginnerty and Tony Adams of Fluor-Lane, and John Lynch, the former regional administrator for Virginia Megaprojects who was recently appointed the district administrator for the Culpeper District. McDonnell touted the impeccable safety record and local jobs created by the 95 Express Lanes and newly completed 495 Express Lanes.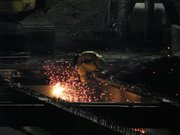 The visit to the roadside of the 95 Express Lanes coincided with the announcement of another project that will help ease traffic congestion on the I-495 Capital Beltway in Fairfax County by converting a shoulder into a travel lane during peak travel times from Old Dominion Drive to the George Washington Parkway Interchange—a distance of 1.5 miles.
"The additional lane will provide five travel lanes, helping traffic merge from the northern end of the I-495 Express Lanes facility to the regular Beltway and easing backups for drivers headed to the American Legion Bridge and into Maryland," said Governor McDonnell.
The $20 million project will rebuild the left shoulder of I-495 North so it can be converted to an additional travel lane. The lane will only be open during afternoon peak travel times and will be lane-controlled by overhead signals. There will remain a safety shoulder on the right side through this stretch of I-495.
The existing shoulder will be reconfigured to accommodate the change and improvements are not expected to impact local bridges or overpasses.
Environmental work on the shoulder lane will begin this summer, with construction scheduled to start in mid 2014. The new lane will be open to traffic by late 2014.