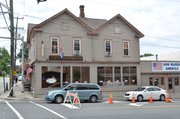 On June 14, Jimmy's Tavern in downtown Herndon had the lease renewed for 10 more years during the intermission at the Herndon Friday Night Live event. "It was Flag Day when we signed the 10 year lease," said restaurant owner Jimmy Cirrito. "In 1996 we signed the original lease form on Veterans Day, we did not open yet. We completed the renovations again and opened on Memorial Day on 1997, May 29. So we issue a thank you to the staff of Friday Night Live to share with the public this moment of keeping Jimmy's alive all these years."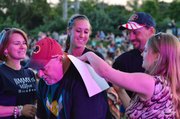 Along with an extended lease, the restaurant and tavern is looking to expand the restaurant property. The expansion project includes building a new kitchen, dining area, beer garden and restrooms.
"The space became available March 1, 2013. We had to decide if we wanted to take it or not," said Cirrito. "It was an easy call to make. I had actually been looking at the space since 1996." The restaurant will be expanding into space previously used by the neighboring Tele-fix TV repair store on Spring Street, which recently closed.
The project will cost at least half a million dollars, yet Cirrito and his family believe it's worth the investment. "Right now our kitchen is in two buildings, it is difficult. Our main goal is to have one large kitchen under one roof. When we [the restaurant] are full, we direct people to neighboring restaurants. The extension will let people have private parties, like wedding receptions.
"Most restaurants have names for multiple rooms, and my brother-in-law said the space is like the west wing. We decided to call it the 'Buffalo Wing.' Our existing dining room we are going to call the 'Weck' after our Weck sandwich, a thinly sliced buffalo New York roast beef sandwich served with horseradish.
"The alley behind us forms its own courtyard, so we are going to install brick walkways from Elden Street and Spring Street so patrons can walk into a courtyard from which we will have a bar, seating and a stage. There will be a brick patio with horticulture, something like a rock garden."
Town of Herndon Mayor Lisa Merkel has been an enthusiast about the restaurant's expansion and was onstage at the Friday Night Live Lease extension. It also means a lot to the landlord, as it shows the support of the town. Merkel signed the lease document as a witness, and later issued a statement:
"Downtown Herndon is on the move, with new businesses arriving and we are thrilled that Jimmy's Old Town Tavern, a well-loved centerpiece in downtown, is expanding. Everyone I've heard from is excited about the opportunity for outdoor dining on the new beer garden deck, and as always we wish Jimmy's Old Town Tavern the best!"
"The original Jimmy's is not changing," said Cirrito. "It is the same menu, and we will have a nightlife and entertainment schedule. We will still have DJs, kids' nights, but in addition we will have a family friendly dinning room. … With one central kitchen, we will be able to serve people more efficiently."
To help cover expenses for the restaurant's expansion project, a fund-raising campaign has begun. "We have been selling merchandise and bricks on which people can have the names engraved, and we are offering corporate sponsorship packages," said Cirrito.
To learn more about the fundraising project at Jimmy's Tavern, visit web page: http://www.jimmystavern.com.