Where and When

The Hub Theater presents "Act a Lady" at the John Swayze Theatre, The New School, 9431 Silver King Court, Fairfax. Performances July 12-Aug. 4, 2013. Friday at 8 p.m., Saturday at 2 p.m. and 8 p.m., and Sunday at 2 p.m. Tickets: $25-$30. Visit www.thehubtheatre.org or call 1-800-494-8497. Note: Ages 13 and up.
There are tough times in a small Prohibition-era Midwestern town. What is to be done to keep everyone and everything going? Well, in the Hub Theater's next production, "Act a Lady," the townsfolk come together to explore their lives in rather unexpected ways. Even gender gets exuberantly blurred. And there is even hip accordion music.
"I love 'Act A Lady' for its beautiful language, its great story, and its rich characters. But what is most wonderful about this play is how it empowers us to look at our true self," said Helen Pafumi, Hub artistic director.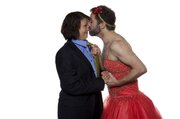 Written by Jordan Harrison, "Act a Lady" is receiving its area premiere. The production is directed by Matthew Wilson, artistic director of the Helen Hayes Award recipient Faction of Fools Theatre Company. Wilson called Harrison's script one "with a real elegance and constant surprises."
"'Act A Lady' is genuinely funny; it's genuinely moving; and it's genuinely smart. Plus, it is positive ... this play has an honest heart and a beautiful, hopeful spirit. It's the kind of play that lifts your soul," added Wilson.
What should audiences expect? "There are scenes of high physical comedy, men in lavish period dresses, and fantastical theatrical journeys—with scenes of simple, American domesticity; honest, regular people working out their relationships; and deceivingly lowbrow observations about life," said Wilson.
Matthew Pauli plays Miles Cuthbert, a vital character in the mayhem. For Pauli, the play has "so much covered in such a clear and simple way. ... This is a script that trusts the audience to be able to put together the pieces, so there isn't a lot of hand holding or leading. It is really smart.
"I get to play several characters, and I get to have a little fun at my own expense ... " added Pauli. "I also like that Miles is trying to balance practical concerns with his nature as a dreamer."
Actor Toni Rae Salmi described her character, Dorothy Cuthbert, as "a lot more complex than folks might see her at first ... you get to see her wrestle with her beliefs."
Why see a show not seen in the area by a lesser know playwright? "This is a very charming, funny play where all of the characters get to explore their masculine and feminine sides … there's something for everyone: comedy, melodrama, romance, social issues and music," said Salmi.