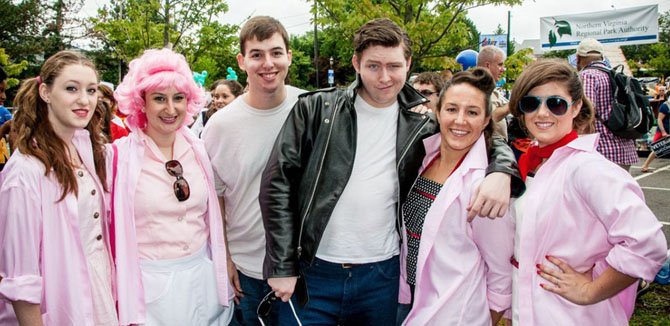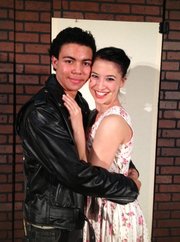 Chantilly — It's high school 1959, and the students at Rydell High are busy with their classes, music and love lives. And with a rockin' beat underscoring the story, the audience will see the blossoming romance of tough guy Danny and nice girl Sandy.
That's the premise of "Grease," The Alliance Theatre's new musical at Chantilly High. It features a cast and crew of 55 that Director Jennifer Farmer calls fabulous.
"This cast is amazing and incredibly talented," she said. "I get chills when they sing. It's definitely a family-friendly show, and the audience will thoroughly enjoy spending their summer nights here."
The show will burst upon the stage Saturday, July 13, at 7:30 p.m.; Sunday, July 14, at 4 p.m.; Friday, July 19, at 7:30 p.m.; Saturday, July 20, at 4 p.m.; Saturday, July 27, at 7:30 p.m.; and Sunday, July 28, at 2 p.m.
Music director is Trace Stokes; choreographers are Maria Cammarata, Chaz Coffin, Heidi Ermlick and Courtney Janelle. Tickets are $20, adults; $15, students, children and senior citizens, at www.TheAllianceTheatre.org. For group tickets, call 703-220-8101 or e-mail BoxOffice@TheAllianceTheatre.org.
The scenes take place in the schoolyard, cafeteria, a bedroom and a 1950s diner. "And the car we have is amazing," said Farmer. "We can dance on it and it has a real vinyl seat. The costumes are eye-catching, too; the girls will have sweaters, poodle skirts and saddle shoes."
Playing Sandy is June Chantilly grad Stephanie Feeback, who'll major in musical theater at Oklahoma City University. "Sandy's the sweet, new girl just trying to fit in, and she doesn't realize how naïve she is," said Feeback. "Her first love was over the summer, and now she's heartbroken and wants people to respect her."
Feeback's excited about her part because "it's a beloved role and everyone's seen the movie and loves the music. It's a fun show to do and Sandy grows up, changes and finds herself as she matures during the course of the story."
Her favorite song is "You're the One that I Want" because "it shows Sandy as finally happy and confident." She said the audience will love the production because "the cast is really energetic and they'll like hearing the songs they all know and seeing them performed."
Diego Encarnacion, a rising junior at Chantilly, portrays Danny. "He acts rough in front of his gang, the T-Birds, but he shows a soft side to Sandy," said Encarnacion. "During that summer, when he's isolated from his usual world, he shows that he can fall in love."
Danny's interesting to play, said Encarnacion, because "it's fun to be flirtatious, and Danny knows everyone really well and almost everyone likes him. And because of the 1950s time period, it gives the 'bad guy' a different stereotype." Encarnacion likes the song "We Go Together" because it involves practically the entire cast and "everyone has a lot of fun singing it; it has a come-together feeling."
He said attendees will enjoy "the view into the '50s and seeing how different things were back then. They'll also like the romance between Danny and Sandy and the drama between T-Bird Kenickie and Rizzo, one of the Pink Ladies. And everyone in this cast has lots of talent."
Playing Rizzo is 2002 Chantilly grad Kristina Ortiz. "She's the leader of the Pink Ladies, a 'gang' of the popular girls who rule the high school," said Ortiz. "She's tough, sarcastic and outspoken, but also has a softer side she doesn't allow many people to see."
Ortiz loves playing this role because "we have a lot of things in common. [In real life], I'm a federal police officer so I have to be tough and a leader, but I have a soft side, too. And it's fun being sarcastic; people can't one-up her — she always has a comeback."
Her favorite song is "There Are Worse Things I Could Do" because the audience gets to see a vulnerable Rizzo and realize she has feelings. As for the musical, said Ortiz, "The singing is fantastic and it's a great show overall."
From Little Rocky Run, Thomas Jefferson grad Daniel Perkes portrays Teen Angel, who appears and sings the "Beauty School Dropout" song, comforting the character Frenchy and encouraging her to return to high school. It's a cool song, said Perkes, because "it's a dreamy, theatrical number with the girls all around Teen Angel."
He also plays nerdy student Eugene. "He's more focused on school than the other characters," said Perkes. "Hopefully, he's endearing and the audience will connect with him and see that he's a good guy."
He said people will like how much fun the actors are having. And, he added, "The main characters are really well-developed, so the audience will get immersed and swept up in the story and be excited to see what happens next."