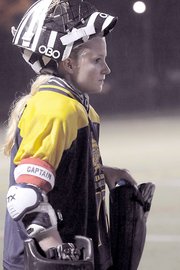 Megan Boyle was a four-year starter at goalkeeper for the T.C. Williams field hockey team. She was all-Patriot District each season, earning second-team honors as a freshman and first-team accolades her final three seasons. She was so valuable to the Titans, head coach William Heresniak went as far as to call Boyle "our savior."
Boyle, a 2013 TC graduate, concluded her high school career by being named first-team all-Northern Region as a senior. She will play field hockey at Towson University in the fall.
Boyle participated in a Q and A with the Gazette Packet via email.
*Gazette Packet: What made Towson the right fit for you?
Boyle: I fell in love with Towson the first moment I stepped foot on campus. I was there for a tournament with my club team (Capitol Pegasus) spring of my sophomore year. It's not too close to home but not too far, either. It's the perfect distance for my parents to come watch my home games. I think the campus is absolutely beautiful and their stadium is beautiful as well.
*Gazette Packet: What will you study at Towson?
Boyle: Thanks to T.C. Williams criminal Justice teacher Ms. Gulden, I have decided to study criminology at Towson.
*Gazette Packet: Any word on if you'll see playing time as a freshman?
Boyle: I'm expecting to get some playing time my freshman year. My coach told me that if I work hard enough I could see some playing time.
*Gazette Packet: What are you most looking forward to about the transition from high school to college?
Boyle: I'm looking forward to being more independent and playing the sport I love at a high and competitive level.
*Gazette Packet: What is your favorite memory of playing field hockey at T.C. Williams?
Boyle: The best part of field hockey at T.C. Williams was being lucky enough to play with such a great group of girls. I'm going to miss all of them. My favorite memory was upsetting West Springfield in the district semifinals in strokes (in 2012). We made history. It was the first time TC FH had been in the district finals since 1995.
*Gazette Packet: How old were you when you first started playing field hockey? Did you imagine you'd end up playing in college?
Boyle: I was 13 years old when I started playing field hockey. I would have never imagined that I would be playing in college. I didn't even seriously start playing field hockey until my sophomore year. Being able to play field hockey at Towson is a dream come true, I can't wait for preseason.
— Jon Roetman