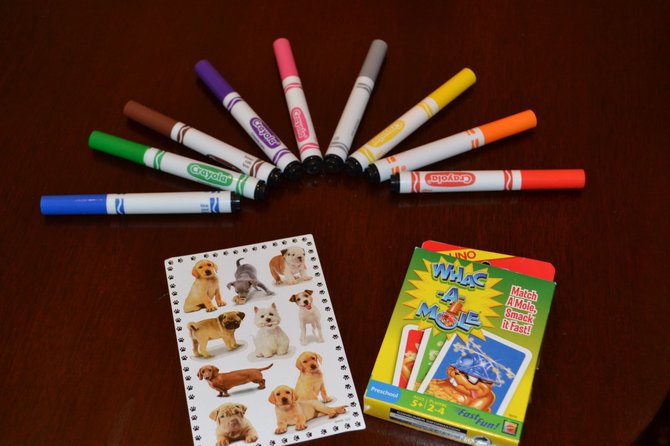 Packing up the car and leaving town for a summer vacation is an opportunity to spend time relaxing with family and friends. Getting to those destinations, however, can be grueling, especially when summer treks mean enduring long hours on the road. This is especially true for children.
Any parent who has heard the age-old question "Are we there yet?" knows how important it is to fill the time. For some, watching DVDs is the answer, especially now that many SUVs and minivans come equipped to provide each passenger with a personal DVD player. Local education experts question whether this is the best solution, however, and offer creative options for passing the time.
"A long car ride is a time to be together rather than creating distance by bringing in movies and DVDs," said Fred P. Bemak, Ed.D., a professor in the Counseling and Development Program at George Mason University in Fairfax, and a Fairfax Station resident. "I am concerned about the overuse of DVDs because of the family disengagement that that fosters. Long travel is an opportunity to creatively make up games between parents and children."
"[B]eing stuck in the same place with your child for six or seven hours is a goldmine. It is an opportunity to foster creative engagement and healthier relationships with family members."
—Fred P. Bemak, Ed.D., George Mason University
Shannon Melideo, Ph.D., associate dean of the School of Education and Human Services at Marymount University in Arlington, said that with a little planning, creating entertaining games and activities is easier than one might think. "Time must be spent preparing the materials so that the children can find enjoyable ways to spend their road trip time in the back seat," said Melideo. "Tie a makeup brush kit to the back of the driver's and front passenger's chair, one for each child, personalized for their developmental level and interests. Fill the compartments with flashcards, little toys, a mini periscope, stickers, paper, writing or coloring instruments."
Melideo also recommends giving each child a lap desk or other hard surface to make the kits easy to use.
Colorforms Activity Toys, which are sets of brightly colored geometric stick-ons that come with spiral bound books, are a favorite of Bethesda, Md., based therapist Karen Prince, who specializes in work with children. "There are also some tactile things like Model Magic Clay, which is a clean clay that children can use to make things. You can also get kits to make things [like] key chains and necklaces."
"I Spy" type games are also fun, Bemak said, "I used to play a game with my kids where we would find 100 red cars, 20 convertibles, 35 trucks. As adults, my children still remember those games because they were meaningful engagements."
Melideo recommends playing word games that involve the entire family. "[They] require little or no game pieces [and] are excellent because they provide conversation starters, engage all members, stir a little competition, develop language skills and use brain power."
Among Melideo's favorite games are Verbal Guessing, 21 Questions and the ABC game. "Using the letters of the alphabet, each person must find road signs or license plates containing each letter in order," said Melideo of the ABC game. "The first person to find every letter of the alphabet wins. For example: A-Avenue, B-Banquet, C-Center."
To play the Verbal Guessing Game, "Using any topic, one person thinks of a person, place or thing [and] gives three clues," said Melideo. "Then the rest of the players take turns asking questions that can be yes or no until someone makes a guess. If the group gets stuck, the thinker gives two more clues."
Another family game that Melideo recommends is 21 Questions, where players pose 21 questions to one of their fellow travelers. "There are many interpretations of this game," she said. "The idea is to let each person talk about ... themselves and for the travelers to get to know each other even better. It keeps kids talking to their parents."
Listening to books on tape is another activity that can involve the entire family. "If everyone is listening to it … there can be tremendous engagement about what is happening in the book and then you can talk about it," said Bemak. "It is a matter of 'Here are your ear phones, be quiet and don't bother me,' versus 'We're all going to listen to this book and discuss it.' Talk about a great spring board for social interaction."
Journaling not only helps to fill time, but also creates a record of the trip. "Keep a journal of the trip starting with the actual travel part of the trip," said Melideo. "Give your child a low cost digital camera for clicking photos [for which] they can later write or type captions."
Even with planning, experts admit that filling time during long trips is not easy. "Family life is work," said Bemak. "You might feel tired or exhausted or stressed. The television or a DVD is an easy way out. But being stuck in the same place with your child for six or seven hours is a goldmine. It is an opportunity to foster creative engagement and healthier relationships with family members. It is not every day that you have children who are going to sit with you in the same room for hour after hour."