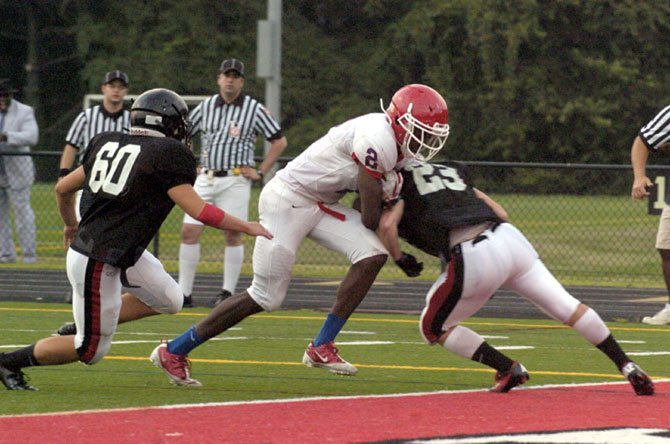 After a 1-5 start, the T.C. Williams football team closed the 2012 season on a four-game winning streak. Senior wide receiver Landon Moss put an exclamation point on the streak when he caught the game-winning touchdown pass in overtime of the Titans' season finale against rival West Potomac.
Moss was one of TC's top pass-catching playmakers during his junior and senior seasons. His talents earned him a full scholarship to Coastal Carolina University in Conway, S.C., where he will play receiver for the Chanticleers and major in sports management.
Moss recently took part in a Q and A with the Gazette Packet.
*Gazette Packet: What made Coastal Carolina the right fit for you?
Moss: I felt Coastal was the right fit for me because of the offense they ran, a spread offense very similar to ours. Also, Coastal is known for its sports management program, which is also what I will be majoring in. It's a great program, beautiful campus, with beautiful facilities, and of course it's right beside the beach!
*Gazette Packet: What is your favorite memory of playing football at T.C. Williams?
Moss: My favorite memory, as far as T.C. Williams football, is definitely the West Potomac game, the last game of the year. That was by far one of the best feelings I've ever had, as well as one of the best games I've ever had the chance to be a part of. It was emotional knowing it was my last game of the year, but I felt like our senior class went out on top.
*Gazette Packet: If you could go back and change one thing about your high school athletic career, what would it be?
Moss: If I could change one thing about my athletic career it would definitely be my decision to not play football my sophomore year when I first moved here. It definitely would have helped me in terms of my exposure but I'm still happy with where I ended up.
*Gazette Packet: When did you realize playing college football was a possibility for you?
Moss: My father always told me he believed I was a better football player than basketball player, but growing up I always had dreams of making it to the NBA. When I sat out my sophomore year, I realized how much I missed being on the field. So I would say my junior, going into my senior year (is when I realized). I was a bit devastated at first because the whole recruiting process was little to nothing. My coaches continued to help me keep my spirits high and I remember coach Williams telling me if I continue to work, my time will come. He molded the idea that I could play on the collegiate level into me and after that I had no doubt in my mind that I could.
*Gazette Packet: What are you most looking forward to about the transition from high school to college?
Moss: I'm looking most forward to the chance of winning a national championship. I wasn't fortunate enough to win a state championship like few are, but this is an entire new beginning for me with opportunities galore. And the possibility of hoisting a national championship, there is no greater thing than that in my opinion, and is definitely what I'm looking forward to the most.
*Gazette Packet: You're from Kansas, correct? What city? What are some of the biggest differences between your hometown and Alexandria?
Moss: Yes, Junction City, Kan. The biggest difference from JC and Alexandria is the pace at which everybody moves. In Kansas, it's slow moving, nobody is in a rush and it's a small-town feel to it. In Alexandria, everybody is going somewhere and everybody has somewhere to be. That's just the result of living so close to the nation's capital.
*Gazette Packet: You come across on social media as a funny, goofy guy. How would you describe your personality?
Moss: I would describe myself as outgoing and comical. I love making people smile and hearing people laugh. The fact that a simple laugh can make someone's day is amazing and is something I hope to do through social media and is a way to show a side of me a lot of people haven't seen before.
*Gazette Packet: Who is your favorite music artist? Why?
Moss: My favorite artist is Kendrick Lamar. All of his songs are stories and he has great delivery. He also has nice beats in most of his songs and I like the message he sends to today's youth.
*Gazette Packet: What's your favorite movie? Why?
Moss: I have a couple of them, but my all-time favorite movie is "Soul Men," which is also the late Bernie Mac's last movie. It's by far one of the funniest movies I've ever seen. He and Samuel L. Jackson are hysterical in that movie; you should check it out if you haven't already!
--- Jon Roetman