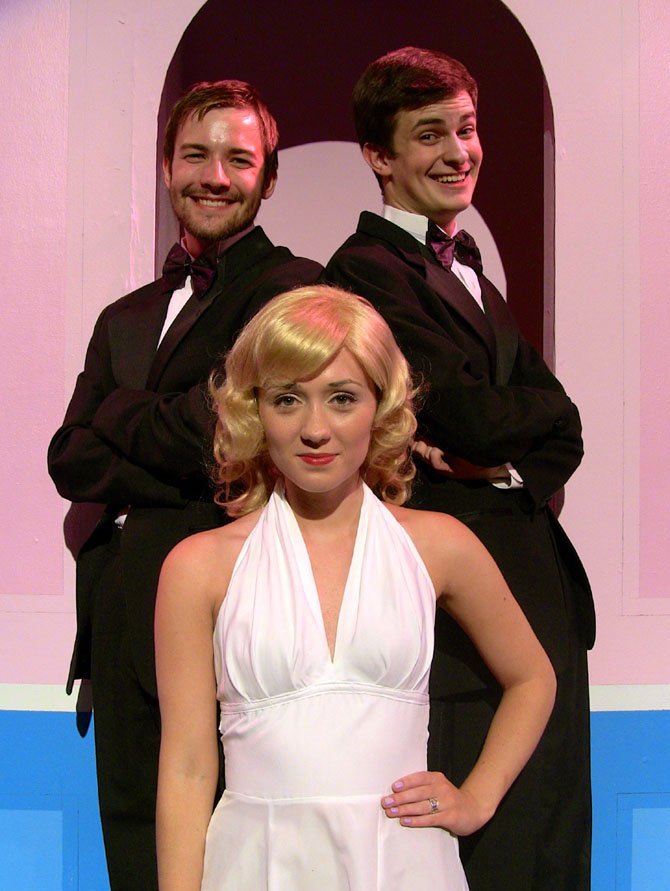 Centreville — With a cast and crew of more than 100, Westfield Summer Stage presents the musical that won more Tony awards than any other show in Broadway history, "The Producers."
The curtain rises Friday-Saturday, July 19-20 and July 26-27, at 7:30 p.m.; and Sunday, July 21, at 2 p.m., at Westfield High, 4700 Stonecroft Blvd., Chantilly. Seats are reserved; tickets are $12 at www.westfieldtheatreboosters.com and $15 at the door.
"It's silly, irreverent and fast-paced but, most of all, very entertaining," said Director Lori Knickerbocker. "We have a talented cast of middle- and high-school kids, and the audience will love the singing, dancing and jokes. I think this will be another winner."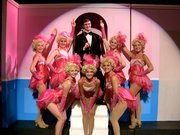 The Mel Brooks musical-comedy tells the story of Max Bialystock, a washed-up Broadway producer, and Leo Bloom, a neurotic accountant, who devise a devious scheme to make millions by producing the biggest flop ever.
Obtaining a slew of investors, they raise more money than they need to put on the show. If it's a success, they have to pay off their backers; but if it fails, they can take the money and run. So they find the worst play ever written, hire a lead actor and director with no talent, and then wait for the bad reviews. But things go awry when the show becomes a smash hit.
Since "The Producers" is a satire of other Broadway shows, Knickerbocker said, "We've embraced its cheesiness and 'schmaltz.' It's a funny show and the kids are having a good time with it. There's some adult material, so we're calling it PG-13."
Set in late 1950s New York City, it's also an ensemble show with every person in the cast playing at least three roles. So, said Knickerbocker, "We have more than 200 costumes, including pink showgirl dresses and one dress that looks like the Chrysler building."
The scenes take place in an apartment, an opulent townhouse and a city rooftop with a pigeon coop featuring puppet pigeons. "There are also show stages, staircases galore and big marquees," said Knickerbocker. "Master carpenter Rich Damers built the set and Tina Dempsey designed and painted it. She has an art background and her sets are just phenomenal."
Knickerbocker said Westfield grad Pat Mitchell did "a great job designing the lighting. And Yvonne Henry and Avery Hobbs choreographed more than 20 dance numbers. They based it on the choreography from the original, Broadway show and added their own touches."
Another Westfield grad, Laura (Fraase) Walsh, conducts the 20-piece orchestra, working with Music Director Charlie Manship and Vocal Director Carol Jones. Stage manager is Westfield grad Elisabeth Bloxam.
Portraying Bialystock is June Westfield grad Mitchell Buckley. "He's a greedy, Broadway producer without much moral fiber," said Buckley. "He cares more about money than treating people well. He's smart and knows how to manipulate people to get what he wants."
"We've embraced its cheesiness and 'schmaltz.' It's a funny show and the kids are having a good time with it."
— Director Lori Knickerbocker
It's exciting playing him, said Buckley, because "Max is over-the-top and I'm used to playing more serious roles. He's big, loud and funny and requires a lot of energy." Buckley's favorite song is "Betrayed" because "Max sings it toward the end of the play and reenacts the whole show in it." He said the audience will like "how committed everyone is to their roles. And Mel Brooks isn't afraid to poke fun at anybody."
Westfield rising senior TJ Vinsavich plays Bloom. "He's a neurotic accountant who's always stiff and uncomfortable," said Vinsavich. "The smallest thing can give him an anxiety attack. But he eventually comes out of his shell and starts enjoying his life more. He's fun to play because, whenever he's on stage, he's yelling and flailing everywhere with crazy gesticulations; he's very unpredictable."
Vinsavich likes the song, "We Can Do It," because "it establishes Max's and Leo's characters and you see how much they're polar opposites." He said the audience will enjoy the whole show because "from start to finish, it's packed with energy and over-the-top characters, the music numbers are huge crowd-pleasers with really cool harmonies, and we have a great ensemble."
Playing Ulla the Swedish secretary is new Westfield grad Madeleine Bloxam. "She's not ditzy, but peppy and outgoing and touchy-feely with the other characters," said Bloxam. "She falls in love with Leo and flaunts herself when she sings her number in the play they produce. It's a fun role where I can make my character bigger and exaggerated; I can take that sultry secretary and push her further."
Bloxam's favorite song is "That Face," an energetic duet between Ulla and Leo, because "it has a dance break with classic, ballroom choreography. It's corny, but a cute love song." She said audience members will appreciate that, "while the show is offensive, it's equally offensive to everyone — but in a lighthearted way. It just goes a little over the line."
Rising Westfield senior Brandon Sanchez portrays Franz Liebkind. "He's a washed-up, old, neo-Nazi who has great respect for his Fuhrer, Adoph Hitler," said Sanchez. "He's kind of crazy and bi-polar and he wrote a musical, 'Springtime for Hitler.' He's kooky and wears a helmet and lederhosen — he's a very strange guy. It's physical, out-there humor, and it's fun to be loud and wacky."
Sanchez said the "Springtime for Hitler" number is particularly fun to watch. "Franz wrote the play out of devotion to Hitler," he said. "But the play makes fun of him, and that's where the humor in this song comes from." He said the audience will enjoy Brooks's humor and "wide array of characters from more normal to really crazy; they'll like seeing the whole spectrum."
Playing Roger DeBris, the lead actor and director of Liebkind's play is Woodbridge High senior Justin Janke. "He's a mystery — you don't know what's going to come out of him," said Janke. "He thinks he's more important than he actually is. And he's not nearly as good an actor as he thinks; however, his personality makes up for it. He's an exciting, larger-than-life character and it's fun experimenting with him and filling his shoes."
"Bialy" is Janke's favorite number because of "a really awesome quintet" within it that "ties up everything in the story, but lets you see the shenanigans that'll happen in act two. It's a professionally run show and people will get their money's worth. It's so engaging — there's always something entertaining happening onstage."