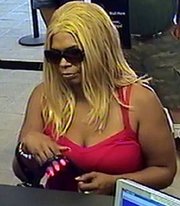 Bank Robbed in Chantilly
Fairfax County police are looking for the woman who robbed a bank in Chantilly early Monday morning. Officers were called to the Bank of America at 14001 Metrotech Drive, on July 15, shortly after 9 a.m. They say a woman entered the bank, approached a 27-year-old female teller and handed her a note demanding money.
The robber received an undisclosed amount of cash and then fled on foot. No one was injured and no weapon was seen. The suspect was described as black, in her 20s, 5 feet 2 inches to 5 feet 5 inches, with a medium build. She wore a red, sleeveless top, a blonde wig and sunglasses.
Anyone with information is asked to contact Crime solvers at 1-866-411-TIPS/8477, e-mail www.fairfaxcrimesolvers.org, text "TIP187" plus a message to CRIMES/274637 or call police at 703-691-2131.
Credit Union Catches Fire
Fire officials say a blaze last week at a local credit union was caused by a worker using an open flame while repairing a leak in the roof. The incident occurred Thursday, July 11, around 3:05 p.m., at the Fairfax County Federal Credit Union, 4201 Members Way in Fairfax Center.
Firefighters encountered smoke coming from the front and roof of the three-story building upon arrival. The Incident Commander then struck a second alarm, bringing more than 60 firefighters to the scene. They initiated an aggressive fire attack from several locations, bringing the fire under control in approximately 20 minutes.
Firefighters also conducted extensive, overhaul and salvage operations because of fire in the walls and several void spaces. There were no injuries, but damage is estimated at $40,000.
Free Carseat Inspections
Certified technicians from the Sully District Police Station will perform free, child safety carseat inspections Thursday, July 18, from 5-8:30 p.m., at the station, 4900 Stonecroft Blvd. in Chantilly. No appointment is necessary. But residents should install the child safety seats themselves so technicians may properly inspect and adjust them, as needed.
However, because of time constraints, only the first 35 vehicles arriving on each date will be inspected. That way, inspectors may have enough time to properly instruct the caregiver on the correct use of the child seat. Call 703-814-7000, ext. 5140, to confirm dates and times.
Recycle During Electric Sunday
Residents may recycle old TVs, computers, peripheral electronic devices – such as keyboards, speakers, printers and scanners, as well as household hazardous wastes – including fluorescent light bulbs and tubes, for free, during Fairfax County's "Electric Sunday" events. The next one is slated for Sunday, July 21, from 10 a.m.-3 p.m., at the I-66 Transfer Station, 4618 West Ox Road, Fairfax. For more information, call 703-324-5052.
Sully District Council Meeting
The Sully District Council of Citizens Associations and its Land-Use Committee will meet Wednesday, July 24, at 7 p.m., in the Sully District Governmental Center, 4900 Stonecroft Blvd. in Chantilly. Call Jeff Parnes, evenings, at 703-904-0131. Agenda items include proposed changes to two entities in Chantilly – the Sunoco station at the intersection of Willard Road and Daly Drive, and Crilley Warehouse at 14810 Murdock St.
Crime Solvers 5K Fundraiser
In partnership with Capital Area Runners, Fairfax County Crime Solvers is hosting its first 5K run fundraiser and needs the community's support. Residents are encouraged to sign up now to participate in this family-friendly event; everyone is welcome.
It's slated for Sunday, Aug. 4, at 8 a.m., on Grand Commons Avenue at the Fairfax Corner Shopping Center, off Monument Drive in Fair Oaks. Register at www.capitalarearunners.com/crimesolvers5k.
A nonprofit, Fairfax County Crime Solvers provides an anonymous phone tip line, plus texting and e-mail capabilities to the public, to report criminal information. Tipsters' identities are protected under state law. This program is not run by the police department, but by business leaders and residents seeking to make this county a safe place to live and visit.
It pays cash rewards of $100 to $1,000 to anonymous tipsters when their information leads to an arrest and indictment. And the reward money comes through fundraisers such as this 5K. Learn more about Crime Solvers at www.fairfaxcrimesolvers.org.
Summer Food Drives Needed
Summer is when WFCM is most in need of food donations. Children are home from school and need three meals a day, but many come from homes where both money and food are scarce. So WFCM is hoping local residents and businesses will hold summer food drives to help it restock its food pantry so it can provide food to local families in need. Anyone interested in doing so should contact Terry Kelly at tkelly@wfcmva.org.
Food Donations for WFCM
Western Fairfax Christian Ministries' food pantry urgently needs donations of oil, canned fruit, rice (2-lb. bags), peanut butter, canned meat, Ramen noodles, canned white beans (garbanzo, northern, cannellini, navy), fruit juice, Hamburger Helper and canned vegetables (no green beans). Also needed are feminine napkins and dish soap.
Bring all items to WFCM'S new food-pantry location, weekdays, 9 a.m.-1:30 p.m., at 13888 Metrotech Drive, near Papa John's Pizza and Kumon Learning Center, in Chantilly's Sully Place Shopping Center.
In addition, Thrift Store volunteers are needed for two- to four-hour shifts Fridays, between 9 a.m. and 6 p.m., and Saturdays, between 9 a.m. and 5 p.m.
How To Hire CLRC Workers
The Centreville Labor Resource Center (CLRC) serves businesses and homeowners needing help with just about any home remodeling or maintenance project. And local residents who'd like to hire a worker from the CLRC may do so easily. Either call 703-543-6272 or go to www.centrevilleLRC.org and click on the "How to Hire" link. Tell what kind of work is required, how many workers are needed and when.
The CLRC will match the needs to its registered workers' skills and set up the job. The price for work will be negotiated. After the job is completed, employers are encouraged to provide the CLRC with feedback to ensure that the work was done well and to their satisfaction and to make sure the workers are fairly paid.
Meals on Wheels Volunteers
Fairfax County needs Meals on Wheels drivers in Chantilly and group Meals on Wheels coordinators in both Chantilly and Fairfax. Contact Volunteer Solutions at 703-324-5406, TTY 711, VolunteerSolutions@fairfaxcounty.gov or visit www.fairfaxcounty.gov/dfs/olderadultservices/volunteer-solutions.htm.
Give Caregivers a Break
Fairfax County needs Respite Care volunteers throughout the county to give family caregivers of a frail older adult a well-deserved break. Volunteers visit and oversee the safety of the older adult for a few hours each month. Volunteers are matched with families in or near their own neighborhoods. Support and training is provided. Contact Kristin Martin at 703-324-7577, TTY 711, or Kristin.Martin@fairfaxcounty.gov.
Women's Self Defense Program
The Fairfax County Law Enforcement Foundation is partnering with the Fairfax County Police Department to offer the Women's Self Defense Training program. It's based on the SAFE program formerly provided by the Police Department, but now being taught by C&J Security Corp.

The program is a two-day class that will meet on consecutive Tuesday and Thursday evenings from 6:15-9:30 p.m. It's currently offered free and all class materials are included. Program funding is provided through the Fairfax County Law Enforcement Foundation.
The course is offered to females, age 13 and older. A female guardian must accompany girls 13-18. No men other than the instructors are permitted to be present during a class. For more information, call 703-246-7806, e-mail WSD@fairfaxfoundation.org or go to www.fairfaxfoundation.org.