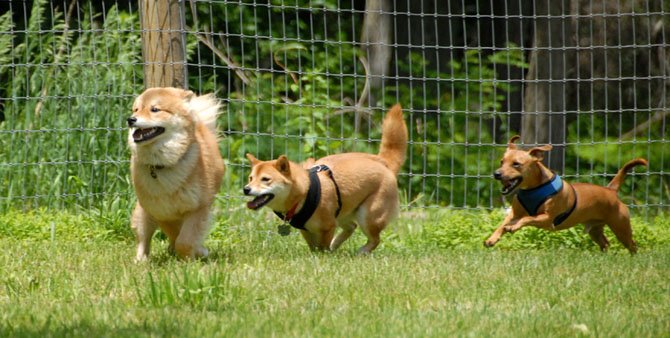 Despite his small stature, Bodi likes to play with the big dogs. Ingrid Anderson has owned Bodi for about three years and said that Bodi is very adventurous.
"He likes to escape and go into the woods and chase foxes," she said.
Bodi is a beagle and English bulldog mix, which Anderson thinks is the source of his boldness.
"I think hunting is in his blood," she said.
According to Anderson, Bodi has become less active with age. When he was a puppy, Anderson would walk him for two and a half hours everyday.
"He's a little bit older now but a year ago, I couldn't even keep up with him," Anderson said.
Anderson no longer has to take him on such long walks, but she does try to take Bodi to the Vienna Dog Park at least twice a week.
A College Companion
While juggling classes, friends and extracurriculars in college, Emily Davis always makes time for her dog Goose. Davis is a student at the University of Virginia and said that it can be difficult to take responsibility of a pet in college.
"Sometimes, I'll have a lot of school work and can't give Goose all of the attention he wants," Davis said.
She said that her housemates help her walk and feed Goose when she is too busy.
"Everyone loves Goose," Davis said. "Sometimes I'll see someone walking him and I didn't even know they had taken him out."
Davis got Goose from the Society for the Prevention of Cruelty to Animals (SPCA) over one year ago.
"At first, he was a little shy but he's turned out to be a really friendly dog," Davis said.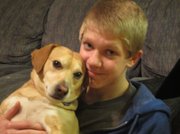 Playful Duke
Despite the heat wave, 12-year-old Nick Redman is outside playing with his dog Duke everyday.
"Duke always wants to play," Redman said. "He just never gets tired."
Redman has owned Duke for nearly a year now. He was a reward for getting good grades in school.
"I always wanted a dog when I was younger so I made a deal with my parents," he said.
Redman's mother, Kathy, said that Duke has taught Nick about the responsibilities that come with owning a pet. Nick is in charge of feeding, walking and cleaning up after Duke.
"It's great to see [Nick] taking care of something," Kathy said. "He loves Duke and really looks out for him."
Tater Loves Beach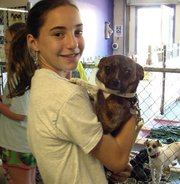 Alana Reeves says she lives in a family of five: her mother and father, her sister, and her dog, Tater. Tater has been with the Reeves family for over nine years.
"He's a part of the family," Reeves said. "He's been around for as long as I can remember."
Reeves said that she enjoys taking Tater to the beach and tries to do so fairly often during the summer.
"At the beach, he can run around and play," Reeves said. "Our yard isn't that big so he can't really do that at home."
Reeves said that as Tater has gotten older, he has become less active.
"He's getting kind of old so he gets tired easily," she said.