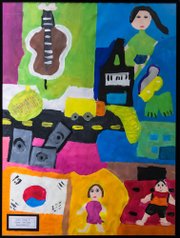 Forestville Elementary School youth have the honor of exhibiting their original paintings on the walls of the Great Falls Village Center Starbucks, courtesy of Great Falls Studios. July through October, at the 9863 Georgetown Pike Starbucks, the 100-plus artist organization based in Great Falls is sponsoring the rotating exhibit in the "conference room" space of the coffee house.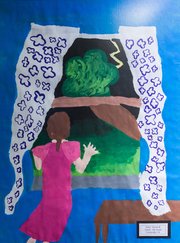 Great Falls Studios is working with art teachers at Great Falls, Forestville and Colvin Run Elementary Schools to exhibit the local children's work. The first group of artists to be featured are Renee Riddell's art students at Forestville. Their paintings, which have been framed and installed by Great Falls Studios, are a mix of self-portraits, landscapes and still-life pieces by kindergartners through sixth graders.
Student paintings will be on display  through October and friends and family will be invited to an artists closing reception in the fall. For more details, go to http://www.greatfallsstudios.com/.