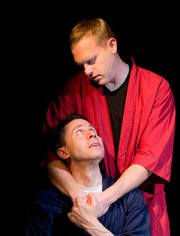 Arlington — The times they are a-changin'. When "I Do! I Do!" first opened on Broadway in 1966, the musical by the "Fantasticks" duo Tom Jones and Harvey Schmidt was a hit. Based on Jan de Hartog's popular 1951 play "The Fourposter," the show chronicles a half-century in the life of a successful marriage. Now playing at The American Century Theater, the innovative Jack Marshall has reimagined the classic to celebrate both heterosexual and same-sex unions.
"I Do! I Do!" is about marriage: what it means, what it takes, the challenges and the compromises," said Marshall, who conceived and directs the production. "I realized that to tell the story of marriage in 2013 and leave out same-sex couples robbed the show of the universality that it was originally intended to have. I wondered if the show's couple could portray the complete spectrum of loving unions we have in America today, and when I examined the text, I found that virtually nothing had to change, musically or lyrically, from what Schmidt and Jones had written."
The show is a series of musical vignettes that follows a married couple through the highs and lows of a 50-year relationship. In Marshall's reimagined version, the original characters of Michael and Agnes become Chris and Leslie as four actors interchangeably portray the two main characters.
Marshall and Musical Director Tom Fuller have assembled an outstanding cast led by TACT regulars Steve Lebens and Esther Covington. They are joined by Mary Beth Luckenbaugh and TACT newcomer Chad Fornwalt.
All four turn in stellar performances as they seamlessly morph from a traditional heterosexual couple to same-sex versions, all telling the story of a single union from different perspectives.
Marshall has staged "I Do! I Do!" with simplicity and enhanced the show's intimacy with a solo piano that highlights the toe-tapping, laugh-out-loud production that is a must-see for anyone who wants to celebrate marriage in all its forms.
"Marriage is marriage, and love is love," Marshall said. "But it is fascinating to see these traditional moments married couples know well seen through the prism of same-sex marriages, as well as the traditional kind. I think this approach makes 'I Do! I Do!' more entertaining, and also more true to its theme."
"I Do, I Do" is playing through Aug. 17 at The American Century Theater, Gunston Theatre Two, 2700 S. Lang Street, Arlington. C703-998-4555 or visit www.americancentury.org.