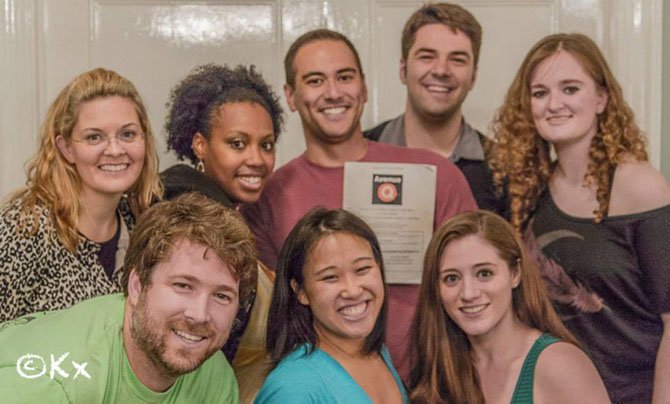 Alexandria — With an abundant use of profanity and episodes of "full puppet nudity," the Tony Award-winning musical "Avenue Q" is not the usual fare from The Little Theatre of Alexandria. But when the storied theater company debuts the Sesame Street-style show July 27, each performance will serve as a fundraiser for several local animal charities.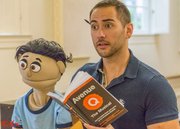 "Cast member Charlene Sloan is a close friend of Bernadette Peters, who founded the organization Broadway Barks," said "Avenue Q" producer Margaret Evens-Joyce. "Broadway Barks helps animals in need of assistance so Charlene worked with Bernadette to bring that idea to LTA."
A storyline in "Avenue Q" includes lead character/puppet Kate Monster attempting to raise funds to build a "Monstersori" school. During "The Money Song" in Act II, the cast and crew will enter the audience to accept donations for four animal charities: the Vola Lawson Animal Shelter, King Street Cats, DC Actors for Animals and Broadway Barks.
"For more than two decades, professional show people on Broadway have dedicated several weeks of performances to fundraising for important causes such as AIDS research, disaster relief and feeding hungry families," said director Frank Shutts, who also serves as the main stage director at Bishop Ireton High School. "The Little Theatre of Alexandria's cast of "Avenue Q" has decided to honor this tradition by dedicating its performances to these four important charities. As the song goes, 'When you help others, you're really helping yourself.'"
The wildly successful — albeit sometimes controversial — musical by Robert Lopez and Jeff Marx is a coming-of-age parable that satirizes the issues and anxieties associated with entering adulthood.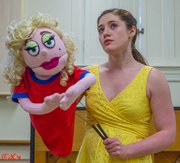 "I've known about the show since it won Best Musical at the Tony awards in 2004," Shutts said. "I like that it pays homage to Sesame Street, which premiered during my kindergarten year at Quander Road Elementary School. 'Avenue Q' is basically Sesame Street for adults."
The show stars Northern Virginia native Sean Garcia as Princeton/Rod, Kristina Hopkins as Kate Monster, Claire O'Brien as Lucy the Slut, Aerika Saxe as Gary Coleman and Stephanie Gaia Chu as Christmas Eve.
"'Q' speaks to recent college grads and picks up where Sesame Street leaves off," Shutts said. "Suddenly we have to find jobs, pay bills and handle life. But life isn't at all what Sesame Street told us it is. There are challenges when reality sets in."
The show's plot deals with adult themes and controversial subjects such as racism, pornography and homosexuality.
"This is definitely for mature audiences," Evans-Joyce said. "Some say it's a dirty little puppet show but it really takes a look at issues and topics that are timely and important. While we don't want children there, teenagers would probably enjoy it even if their parents might not want them there."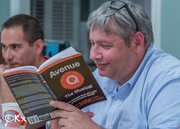 Shutts, an award-winning theater veteran, is excited to be directing the groundbreaking production.
"I am excited about opening night," Shutts said. "The set looks awesome. LTA usually knocks the tech out of the park and they've done it again with this show. And the very tight, talented cast has worked hard to bring this show to Alexandria."
"'Avenue Q' is basically Sesame Street for adults."
— Director Frank Shutts
While LTA is known for more traditional theater productions, Shutts believes shows like "Avenue Q" are important to grow the theater's audience.
"'Q' is more out there but our demographics are changing," Shutts said. "Theatergoers are from the South Park and iPhone generation and we need to keep pushing the envelope to build our audience. It's not our intent to offend anyone but we need to find a younger audience or there won't be one in the future."
"Avenue Q" opens July 27 at The Little Theatre of Alexandria. For tickets or more information, call 703-683-0496 or visit www.thelittletheatre.com.