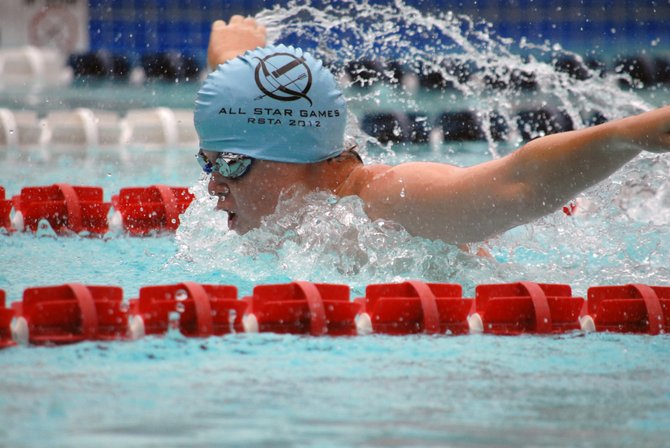 It is said that all good things must come to an end and so it was on Saturday as the final meets of the Reston Swim Team Association (RSTA) regular season took place under a hot, humid day. While this area has suffered under a blistering heat wave for the last week, the early morning hours were actually quite pleasant before the sun came out to bake the swimmers and spectators as the morning wore on. The weather may have been an omen for Lake Audubon as their swimmers scorched the pool en route to their victory over Autumnwood. Their victory left them in sole possession of first place with a perfect 6 - 0 record and another league championship.
And while that victory was somewhat expected by league pundits, the meet between Lake Newport and North Hills was by far the closest and most exciting meet of the day. Trailing by anywhere from four to 42 points after various strokes were swum, the Lightning began their comeback after the Relays. On the back end of the Breaststroke they had reduced the deficit to just 20 points and by the time they were swimming Freestyle and Mixed Age Relays it was either team's meet to win. In the end, their 11-point victory was the closest of the season. "My hat is off to both teams." said Jim Mizner, RSTA board member representing Lake Newport. "With both teams utilizing the same pool for their practices, many of the swimmers and their families know each other so there is a certain amount of friendly rivalry... The enthusiasm and sportsmanship that was exhibited by all of the swimmers was something to behold. It was truly one of the best meets that I have been associated with."
In addition to the excitement surrounding these two meets, there were some longstanding records that were broken.
For Glade, Tyler Ellis broke a record that had stood for twenty-nine years. In the Boys (13-14) 50 meter Butterfly his time of 29.32 bested the old record of 29.51 that was set by Chris Hines back in 1984. For North Hills, Joseph Sciortino set a new record in the Boys (9-10) 50 meter Freestyle. His time of 34.26 beat the old record of 35.09 that was set by Jonathan Pickering back in July of 2006. And for Lake Audubon, Nicolas Sobenes set a new record in the Boys (8 and Under) 25 meter Butterfly. His time of 19.68 beat the old time of 19.99 that was set by teammate John Hughes back in 2006.

Scores and highlights of Saturday's meets follow.
Lake Newport Lightning - 583 North Hills Hurricanes - 572
For Lake Newport, triple event winners were Matt Colturi, Michael George, Emi Redican, Grant Romero, Casey Storch and Nathan Williams. Double event winners were Fabricio Alvarez, Harry Biear, Jack Edgemond, Lindsey Jacobson, Isabelle Kahng, Dan Ni, Matthew Schmitt, Britt Truckess and Alan Yu. For North Hills, triple event winners were Katie Cazenas, Aveesh Kachroo, Joseph Sciortino and Rachel Swarts. Double event winners were Marlee Czarny, Greyson Deker, Ryan Hill, Jennifer Koppang, Emily Ren, Samantha Sciortino, Emma Tierney, Amy Wang and Miles Yang.

Lake Audubon Barracudas - 670 Autumnwood Piranhas - 442
For Lake Audubon, triple event winners were Matthew Fritz, Sabrina Groves, Suya Haering, John Hughes, Conor McBride and Emily McGrath. Double event winners were Robby Cordts, Dante DeSisti, Winston Evans, Kaliyana Haering, Tyler Macaluso, Bryce Onozuka, Aidan Scanlan, Griffin Scanlan, Nicolas Sobenes and Abraham Thomas. For Autumnwood, their triple event winner was Diya Murthy. Double event winners were Stephanie Brininstool, Bailey Copeland, Hannah Douglas, Andrew Freeman, Aiden Grine, Victoria Jenkins, Anne Kennedy, Vikrant Mahajan, Jason Valenzuela, Jake Xeller and Sherry Xie.


Ridge Heights Sharks - 600 Newbridge Dolphins - 498
For Ridge Heights, triple event winners were Derek Liu, Grace Qian, Mac Sogandares and Paige Sogandares. Double event winners were Hailey Brown, Montgomery Curren, Elodie Decker, Ella Handerahan, Kati Imel, Anna Liang, Marc Sipher, Diego White and Brendan With. For Newbridge, triple event winners were Emma Grossback, Emily Slater and Bradley Torrington. Double event winners were Lucas Cardy, Andy Carro, Danielle Elliott, Melanie Ford, Adam Hvitfeldt-Matthews, Patrick O'Malley, Taylor Panneck, Megan Slater and Dash Teague.
Glade Gators - 570 Lake Anne Stingrays - 502
For Glade, triple event winners were Hunter Ellis, Tyler Ellis, Mackenzie Evans, Dean Hartke, Sophia Landeryou, Madeline LaPorte, Joseph Letteri, Webb Nims and Rachel Smith. Double event winners were John Clarke, Andrew DeLillio, Andrew Draganov, Amelia Flavin, Clara Landeryou, Kaitlin Mahon, Natalie McCrea, Noah Smith, Abigail Stiglitz and Jack Thomas. For Lake Anne, triple event winners were Nathan Miller, Tope Oladimeji and Matthew Rodakowski. Double event winners were Sophia Abrahams, Ismael Anwarzai, Emily Fouse and Frank Keusenkothen.