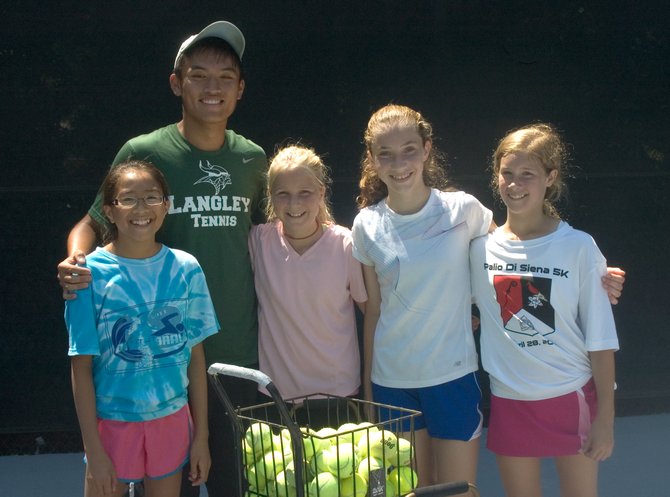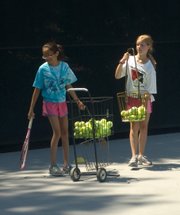 At the Great Falls Swim and Tennis Club, young players have found that sweating in the July heat can still be an enjoyable and engaging experience. Through summer lessons and team practices, these students have had the opportunity to improve their skills on the court while making new connections with their fellow players and coaches.
The junior tennis program at the club is directed by coach Alan Graves, who has been coaching for 35 years. Graves also works with Kyle Duncan, the director of adult tennis at the club, as well as several assistant coaches who aid in summer practices. A former Virginia State Doubles Champion, Graves has been with Great Falls Swim and Tennis for a decade and has worked hard to teach his players to share his love for the sport. "They call tennis the sport of a lifetime," he said. "I want [my students] to learn to enjoy it, hopefully for many years."
In the summer, Graves holds practices for the competitive tennis team in the morning, followed by lessons in the afternoon for other students. The GFST tennis team competes in the Northern Virginia Tennis League in the summer; the season begins in June and will conclude with their final practice on the first of August.
In addition to team practices, Graves welcomes players of all skill sets and age groups to take lessons in a group, private or semi-private setting. "Our biggest selling point is making sure that it's fun," says Graves. "If it isn't fun, they won't want to continue. I want to see kids feel better about themselves as people through tennis."
Most lessons begin with a warm-up followed by games that are both entertaining and instructional as students practice specific skills. Homeschooled student Maria Baird, 13, says that her favorite game is "Sleeping Giant."
"The coaches lie down on the benches, and we try to hit them with the ball," she said. Assistant coach and Johns Hopkins University student Andrew Hwang adds, "This is the coaches' least favorite game."
Some students like Maria play in tennis tournaments throughout the summer at other local clubs such as Vienna Woods, while others mainly play at GFST during lessons. However, all agree with Maria when she says, "I really like the instructors here, and I always feel like I'm learning a lot."
Cooper Middle School student Julia Bullock, 12, says that she enjoys summer tennis because of the group setting, as opposed to individual play. "I like being with a group because I like learning things from other people," she said.
Graves hopes that all of his students will continue with the sport at some level, and is looking forward to the upcoming seasons at Great Falls Swim and Tennis. His favorite part about coaching at the club is "just the fun of it all. I really enjoy teachings kids, probably because I'm a kid at heart myself."
Those interested in tennis at the club can visit www.gfsant.com to schedule lessons or learn more about the program.