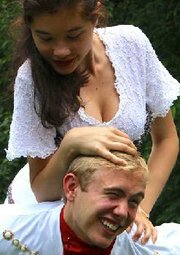 The Traveling Players Ensemble will present Shakespeare's "Much Ado About Nothing" Friday, Aug. 9 at The Madeira School in Great Falls. The traveling troupe is currently on a two-week tour, presenting the play throughout Virginia, and into West Virginia. The Madeira School, which serves as the group's home base, will host the closing night of the production.
This Traveling Players troupe, made up of high school students, has been rehearsing the play for five weeks. "It's one of Shakespeare's better plays," said TPE's Producing Artistic Director Jeanne Harrison. "People don't suspect that. It's a really good one. It's fun. It's about how scary it is to fall in love. It's a great play to work on with teenagers," she said.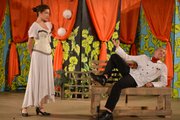 The Traveling Players Ensemble, which was founded by Harrison 11 years ago, has a variety of programs for youth who enjoy drama and the outdoors. The troupe currently on tour with "Much Ado About Nothing," features a cast of 13 students who auditioned for the show in January. They were cast in May, and according to Harrison, have been thinking about the show ever since. They travel by backpack, or on the often-sighted TPE purple bus. The troupe will camp during the entire two-week tour, and present its closing night Friday, Aug. 9 at The Madeira School.
Tickets for the Aug. 9 production are $10. The show will be followed by a silent auction, which will benefit the non-profit Traveling Players Ensemble.