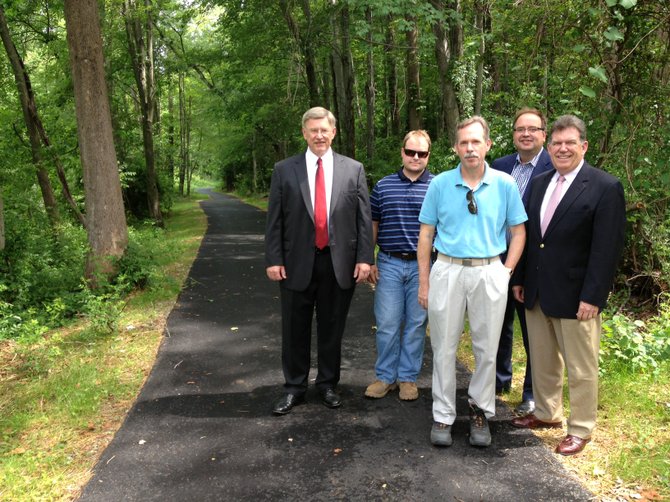 McLean — Residents of McLean are now enjoying a new asphalt trail connecting Churchill Road to Ingleside Avenue at Baron Road in McLean. Dranesville District Supervisor John Foust, Kevin Fay, Dranesville District representative to the Fairfax County Park Authority Board and Fairfax County Park Authority staff dedicated the new trail at a May 29 event held at the trail's Churchill Road entrance.
The trail, completed in April, is a continuation of an existing trail that begins at McLean Central Park, passes the Dolley Madison Library and McLean Community Center to meet Churchill Road. The new trail continues by following the Dead Run stream north, then veering east to connect to Ingleside Avenue.
The idea for the project was suggested by the Fairfax County Park Authority (FCPA). It was reinforced in May 2011, when neighbor Julie Kerlin brought a petition signed by 47 residents to the office of Supervisor Foust, asking for an extension of the McLean Central Park-Churchill Road trail. The petition asked for "safe and direct access to the Community Center, Library and all the assets of the park."
Because the trail was located exclusively on parkland and county land, no land acquisition from private property owners was necessary. The FCPA funded trail construction.
Efforts to extend the trail with a walkway along the northern part of Baron Road between the trail end and Douglass Drive were unsuccessful because of a lack of available public right-of-way.