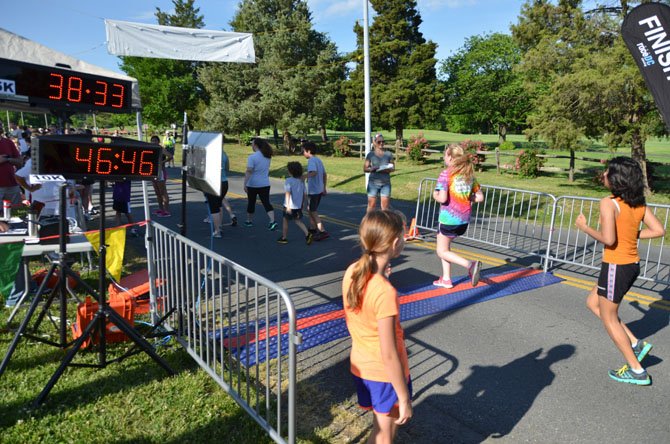 The Town of Herndon held the annual Herndon Festival 10k and 5k races on Sunday, June 2. The competition had an increase in the number of participants. "We had a great turnout this year, about 250 more runners than last year, about a thousand total," said Thomas Schoenauer, this year's race director.
Schoenauer has been working at the Town of Herndon as the Recreation Services Supervisor since August of 2012.
Both races were run on certified courses throughout the Town of Herndon on paved roads. The event began and concluded at the Herndon Community Center at 814 Ferndale Ave. in Herndon.
Boy Scouts and scout leaders from Troop 157 were at water stops situated throughout the course, and students from the Herndon High School Robotics team also volunteered to assist in operations. The Herndon Police ensured that traffic was slowed or halted until race contestants passed. Ambulances and medical support teams were available for anyone suffering from heat exhaustion or injury.
Bill Hill, a resident of Reston, competed in the 5K race. "I did miserable last year because I had a pulled hamstring. This year I did pretty well." Hill was the 34th person to cross the finish line with 609 runners. "The race was well organized, and there was a great atmosphere."
"This was my first 5K race in Herndon," said Herndon resident Katie Duncan. She and her three children participated together in this year's race. "It started with my son, he did it [the Herndon 5K] last year… my husband cheers us on."
"I think it was a well organized race," said Duncan. "They gave good warm-ups in advance and they have good support along the way with people helping direct traffic and provide water."
T-shirts were given to the first 800 pre-registered 10k and 5k participants. Following the race, participants enjoyed refreshments inside the Herndon Community Center. Door prizes, including gift certificates to Wegmans, were presented in a raffle, with the awards ceremony following. Breakfast breads and muffins were available, complements of Great Harvest Bread company. In addition, runners had the opportunity to visit vendors in the Fitness Expo and pick up special offers.
The first place winner of the Herndon Festival 5K race is Herndon High School student James Butler from Herndon, who completed the course in 18 minutes and 22 seconds. Second place went to Duane Novotini, resident of Fairfax, and third place to Herndon resident Christopher Durand. First place for the 10K went to Herndon resident Bradley Heuer who completed the race in 36 minutes and 4 seconds. Second place in the 10K was awarded to Reston resident James Luehrs, and third place went to Herndon resident Andrew Goldman.
To view the full results for race, visit this webpage: https://www.raceit.com/results/default.aspx?event=21449&r=5449.