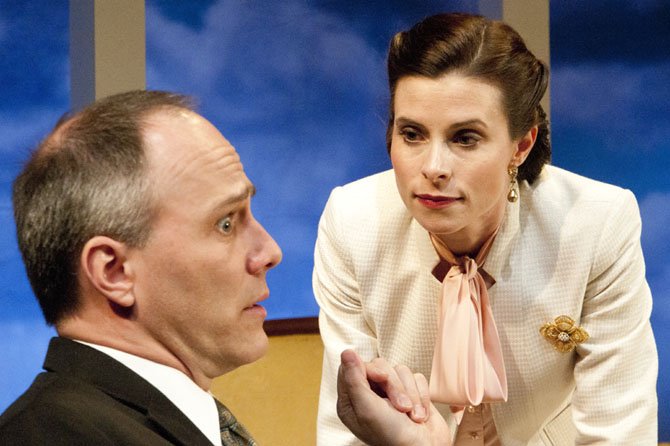 1st Stage presents "Blithe Spirit" at 1524 Spring Hill Road, Tysons Corner. Performances through June 16, 2013. Showtimes are Fridays 8 p.m., Saturdays at 2 and 8 p.m., and Sundays 2 and 7 p.m. Tickets are $15-$25. Visit http://www.1stStage…">www.1stStageTysons.… or call 703-854-1856.
Light-hearted fare has arrived at Tysons 1st Stage in the guise of Noel Coward's 1941 hit, "Blithe Spirit." It is a lovely dessert-like confection of escapist froth and meringue. But its age—it was written during the "keep calm and carry on" times of the London Blitz of World War II—is beginning to show even under the assured direction of Lee Mikeska Gardner.
With its patter of the British upper classes this little amusing tale of cartoonish death, returning feisty spirits and a mortal's passions, gives audiences its share of smiles. Gardner earns plenty of plaudits for not turning the production into an over-done, loud, showy, pretentious mess at the expense of the urbane dialogue and character wit.
Even in her casting of a role ripe with ever so obvious, over-the-top possibilities, Madame Arcati a medium in touch with those in the afterlife. And Gardner made quite a charming casting and directorial decision—she cast a man for this usually older woman character.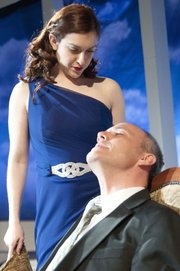 So what is the show about? It is about the soon to be no longer orderly world of a writer (Steven Carpenter as Charles, bringing energy and delightful exasperation to his role) and his second wife Ruth (the icy, if not brittle, straight-laced, Liz Mamana). They decide to hold a séance even thought they both believe such things are faked, with a local eccentric Madame Arcati (Evan Crump totally immersed in a cross-dressing role without unnecessary flamboyance).
The play's best moments come as the writer's now quite dead first wife (a passionate, curvy, Dani Stoller who appears to have channeled Bernadette Peters in appearance, cadence and physicality) appears. When she arrives, the show moves into a good-hearted tizzy. The overall pop and fizzle picks up as a particular musical piece, "I'll Be Loving You Always" takes a central role.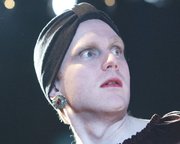 Mikeska keeps the audience's attention moving about as she has her troupe scamper about the stage, not staying in one location too long in what is essentially a one living room set production.
The technical design nicely underpins the production. Derek V. Knoderer's sound design greets the audience with period Big Band music. Steven Royal's set gives hints of the off-kilter world the audience will come to know. His costume designs for the female roles well represent their characters.
"Blithe Spirit" is a comfortably spent evening with a widening circle of unexpectedly lively spirits.