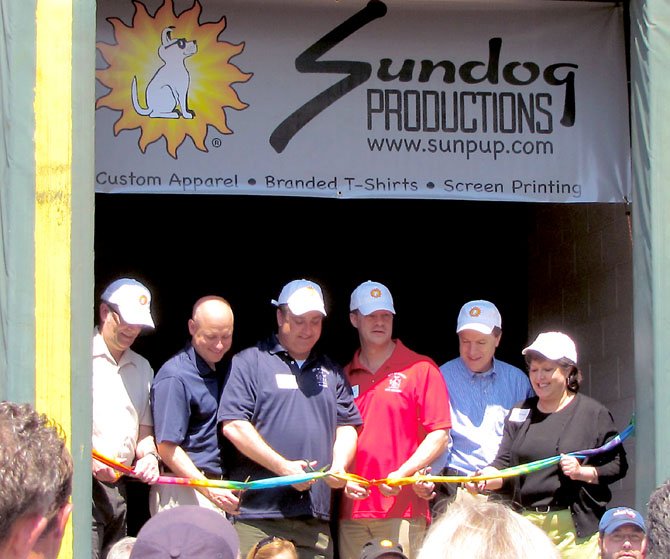 Think a "Made in America" product that features custom tie-dye, all created in an eco-friendly way is too good to be true?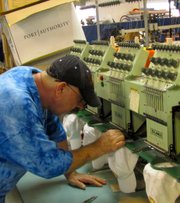 Sundog Productions has it all and recently celebrated the grand opening of its 40,000-square-foot facility on Saturday, June 1. Located at 3850 Jermantown Road, Sundog Productions is the only manufacturing facility on the East Coast to adopt a method of green energy that powers the entire production process all under one roof. By using solar energy, the company estimates that it avoids CO2 production of about 80 tons a year. Jack Levenson, development director from Amidus, a clean energy company headquartered in Maryland, headed the solar installation. He explained the savings to be equivalent to "an annual planting of over 20 acres of forest or over 300 cars being taken off the road." The new facility saves 3.75 million British thermal units (Btu's) per day by focusing on green and sustainable solutions. This will "reduce its carbon footprint through the use of geothermal and solar energy systems and eco-friendly dyes," said CAS Shiver, founder of Sundog Productions.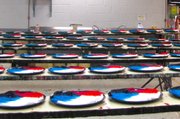 Starting in out of his father's garage, CAS Shiver has been making hand–dyed t-shirts since 1986. Jermantown Road is the company's fourth location. Now the factory stands within what was previously a parking garage. Shiver saw the potential of this large space, filled in the lot's walls and created a facility that now produces more than 13,500 t-shirts a day. Sundog Productions employs only 55 workers, which includes three company designers who create designs for Disney, Universal Studios and bands such as the Grateful Dead. Eco-friendly dyes are applied by hand and the prepared shirts are eventually folded by hand. The closest things to machines are the washing machines that are powered by a heat tank heated by solar energy. As some shirts require specific graphics, Sundog uses a simple air-driven screen printing press. The screens are reused and remade as long as possible.
With the diversity of product and variability of requests, they are still able to screen print two million shirts annually and John Sague of Sundog said, "the thing that's amazing about this place is we never say no."
The grand opening featured a bundle of guided factory tours. Popular shirt designs, framed in Sundog's old screen print frames, line the hallways at the entrance of the factory. From shirts created for independent retailers, to shirts designed for Joe's Crab Shack, Sundog Productions' increased efficiency does it all. The attention to finding a sustainable solution reduces Sundog's carbon footprint by 40 percent. Sundog's Dave Wood said, "This is a fun place to be." Having known Shiver from high school, he's been with the company for about 14 years. "We all come from different viewpoints and in a creative environment like this, it all comes together," he said.