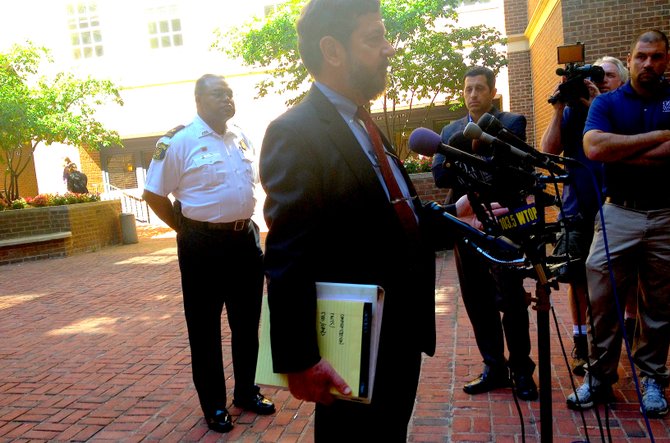 Just a few hours after Alexandria police charged an Arlington Sheriff's deputy with murdering Julian Dawkins, hundreds of friends and relatives packed Antioch Baptist Church on Queen Street for an emotional funeral. Dawkins, 22, was remembered as a hard-working young man who had a great sense of humor. The sanctuary was packed to capacity, and rows of friends lined up out the door and into the streets of the Parker Gray neighborhood.
"He wanted to start his own business detailing cars, so he got a job at PBS driving a shuttle to work toward that goal," said Gary White, a cousin of the slain 22-year-old. "Now that dream has been taken away."
Three hours before the funeral, 44-year-old Craig Patterson appeared on a video screen before General District Court Judge Becky Moore at the Alexandria courthouse. In a brief advisement hearing, prosecutors said Patterson's story that Dawkins threatened him with a knife couldn't have been true because investigators found it folded and clipped in his pocket. Investigators are looking into the possibility that the dispute could have erupted after a game of dice, although Commonwealth's Attorney Randy Sengel said prosecutors are still hoping more witnesses will emerge.
"We believe that there are still a number of folks out there who heard something or saw something or know something that is important to this case who have yet to come forward," said Sengel in a press conference after the arraignment. "We would encourage them to do that."
EIGHT BLOCKS AWAY from the courthouse, friends were already starting to gather at the church to mourn the loss of Dawkins — a great nephew of Circuit Court Judge Nolan Dawkins. They wore shirts depicting photos of the 22-year-old in happier times, spending time with friends and mugging for the camera. One shirt said, "Save a Place in Paradise." The service featured speeches from PBS correspondent Gwen Ifill and Alexandria Mayor Bill Euille.
"Life is too short. Let's not hold grudges," the mayor told mourning friends and relatives. "Live each day to its fullest, and forgive those who have created harm."
Many of the friends who attended the funeral first met Dawkins at Cora Kelly Recreation Center, where he was frequently selected as the captain basketball of teams. His love for the game earned him a spot on the junior varsity team at T.C. Williams High School, where he graduated in 2009. His outgoing personality and sense of leadership made him a popular student, one who had a wide circle of friends.
"He was an outgoing and caring person," said Jermaine Foster, a friend and classmate at T.C. Williams. "He was always cracking jokes, never in a harmful way."
MANY OF HIS FRIENDS fondly recalled Dawkins' sense of humor, which they said was always used in a way to put people at ease. Tania Knight recalled one incident when Dawkins' girlfriend had trouble with her leg. So Dawkins started walking the way she did — a way to laugh at a difficult situation and ease the tension.
"He had this way of knowing what would make you laugh," said Knight. "He was the life of the party."
When friends would quarrel, she said, he was often the one to persuade them to start talking again. When people needed money, others said, he was often the one to loan it to them. When customers at his mother's shop, Hands In Motion, needed something, he was often the one to volunteer to go track it down.
"He was a natural leader," said Monique Bailey, whose son was a friend. "He was the kind of guy who could walk up to a crowd of strangers and strike up a conversation."
MANY OF THE DETAILS about what happened on May 22, when Patterson shot Dawkins in the chest, remain unknown. Patterson called 911 and said Dawkins came after him with a knife, a story that police and prosecutors considered for a full week before arresting him in Spotsylvania County. Before the confrontation, Dawkins had been at a celebration for a cousin who had recently been signed to the Washington Mystics basketball team.
In court, Sengel said witnesses saw Patterson and Dawkins arguing in the early morning of May 22 in the 100 block of Lynhaven Drive shortly before Patterson shouted that he would "be back" as he walked away. When Patterson came back, Sengel said, he was carrying his gun, a pair of handcuffs and his badge from the Arlington County Sheriff's Office. Police and prosecutors say Patterson's position as a public safety officer had no bearing on the investigation, although friends at the funeral were skeptical that his job didn't delay the process.
"I cannot deny that when you have someone of authority who is involved in an event like this, it does change the circumstance in terms of how it's viewed," said Police Chief Earl Cook. "But it does not change the process in terms of how we investigate."