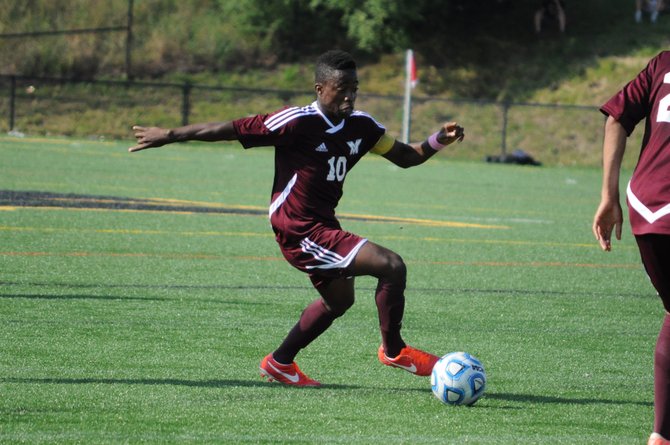 Chantilly — The Mount Vernon boys' soccer team trailed Midlothian 1-0 early in the second half when first-year head coach Tony Garza informed the Majors they had a decision to make: end their season or play for a state championship.
"You have a choice:" Garza shouted from the sideline, "go home or come back tomorrow!"
The Majors chose the latter.
Senior captain Cedric Ekoue netted the equalizer in the 59th minute and assisted Rahim Costa-Dorsey's game-winning header in the 74th minute as Mount Vernon defeated Midlothian 2-1 in the AAA state semifinals on Saturday at Westfield High School. The Majors will return to Westfield today to play in their first state championship game at 2 p.m. against Cosby.
"When I told them either go home or come back tomorrow," Garza said, "part of me feels that like that just really got them motivated inside."
The AAA soccer semifinals were scheduled for Friday, with the Majors and Trojans playing at noon, but postponed until Saturday due to inclement weather. Garza said the Majors' intensity level dropped after the postponement and it took time to get it back.
Midlothian jumped out to a 1-0 lead in the ninth minute, when Alex Waite scored off a corner kick from Cole Georges. The Trojans held the lead until the 59th minute, when Simond Kargbo assisted Ekoue's goal.
Mount Vernon avoided overtime when VCU-bound Costa-Dorsey scored the game-winner in the 74th minute.
"They weren't really playing attention to me," Costa-Dorsey said. "I got closer and closer and then I jumped up and it happened to hit my head and the ball went in."
Mount Vernon, the Northern Region runner-up, will now face Central Region champion Cosby, which beat Northern Region champion Oakton 1-0 on Saturday in the day's first AAA semifinal match.
Mount Vernon's record fell to 3-7-1 when the Majors lost to the Hayfield Hawks, 2-1, during the regular season on May 2. Despite the loss, Garza, who took over as head coach this season after his twin brother, Robert Garza, left to become the head coach at Robinson, said the Majors performed well against the Hawks. The team also strengthened its roster with the return of Costa-Dorsey and goalkeeper Lucas Belanger, who had each been playing academy soccer.
Since the loss to Hayfield, Mount Vernon has won 10 of 11, including a 6-1 victory over the Hawks in the National District championship game on May 17.
"I really enjoy playing for my high school team," Costa-Dorsey said. "At the end, I just want to give something back to my high school before I go to college."
Thanks to Saturday's win over Midlothian, Costa-Dorsey has a chance to help the Majors give Mount Vernon High School a state championship.