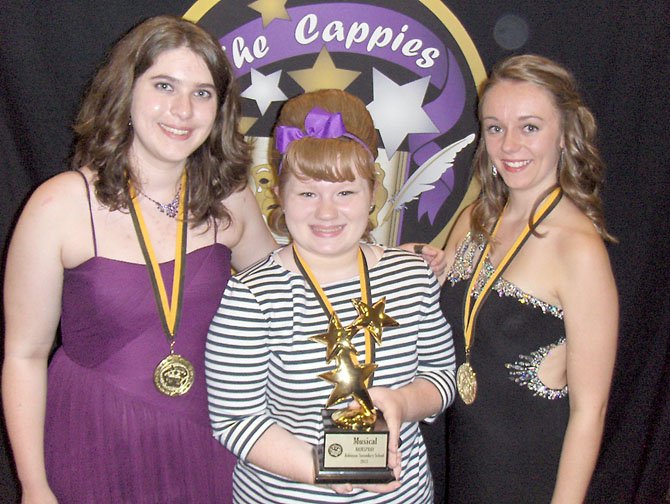 Not only did Robinson Secondary win five of the eight Cappies awards for which it was nominated, but it took home the prize for Best Musical for its production of "Hairspray." It was honored Sunday night, June 9, at the 14th annual Cappies Gala at the Kennedy Center in Washington, D.C.
Robinson also won starry statuettes for Song, Male Vocalist, Supporting Actress in a Musical, and Marketing & Publicity. Lake Braddock Secondary received Lighting and Sound honors for its play, "Rashomon." The Best Play award went to Madison for "Lend Me a Tenor."
Robinson Secondary
"Hairspray" Assistant Director Lauren Rainford attributed Robinson's Best Musical victory to "the love and support of the cast and ensemble. We had a real connection and it showed. We worked so hard, and this is so well-deserved by every single person in the show who put all their time and effort into it." Rainford also gave a big thank-you to Robinson Theater Director Chip Rome "for all he does; he's so inspiring."
Agreeing, cast member Anna Bard said, "We couldn't have done this without his love and support. I'd hoped we'd win, but couldn't imagine it. Then when they said [the Best Musical was] 'Hairspray,' it was a shock to the system. But it's so incredible; I'm so honored."
Rome, who was backstage all night directing the Cappies Gala, was also delighted with his school's achievements. "It's a terribly exciting night and it's nice to win a bunch of awards," he said. "I'm very, very proud of the cast and crew and the professionalism they bring to our productions."
"It's just wonderful when you can find the talent we have, put it in the right places, work hard enough and pull all the pieces of this enormous puzzle together into one, big celebration," continued Rome. "'Hairspray' has a great script with great music, and we had a wonderful leadership team of both adults and kids."
Junior Katie Rogers won the trophy for Supporting Actress in a Musical for her portrayal of the character, Penny. "It was a play with a great message about loving yourself, and I got to perfect the skill of awkward dancing," she said. "It's amazing to win a Cappie. Everyone was determined to convince me I was going to win, but I didn't expect it and didn't want to jinx it. I feel like the supporting actress helps the others in the cast and all the work paid off."
Michael Lamar—who played his character, Motormouth Maybelle, in drag—took home two Cappies for Male Vocalist and Song. He also sang his award-winning number, "I Know Where I've Been," in full makeup and costume at Sunday night's gala. So he didn't exactly look like himself when he received his statuette for Male Vocalist. "The first award I've won, and I'm dressed as a woman," said Lamar. "It's really weird."
He dedicated his performance to his grandparents who, he said, "are in heaven together finally." Afterward, Lamar was still shaking because of his Cappie award. "It hasn't sunk in, yet," he said. "This is exciting and awesome; it's fun to see that all my hard work for my teachers paid off."
Regarding the Song honor, he thanked Rome plus Robinson's costume and makeup crew "because I wouldn't have been a 'woman' without them. It was fun performing at the Kennedy Center and getting a standing ovation. This is something I can take to Emerson with me when I major in musical theater there."
Students Sarah Irving, Sean Cooper and Brennan Laskas were also happy to win the Marketing & Publicity award. "It's incredible; it feels pretty great," said Irving. "I made a lot of original designs, garments and objects for this [category]."
Cooper said other schools made one video each to publicize their shows; he made 17. And, he added, "The speed with which Sarah worked inspired me."
"We won because we're an amazing, three-man band," said Laskas. "Sarah has flawless designs and creative roots, and Sean is a technical savant when it comes to video. I'm the muscle; I spread out the posters throughout Fairfax and hung them every place possible."
Lake Braddock
Lake Braddock won two Cappies for technical achievement in "Rashomon." Andie Powers received a trophy for Lighting, and her crew chief, junior Ava Chafin, accepted on her behalf.
"It's such an amazing experience because, at Lake Braddock, we worked so hard on tech," said Chafin. "And to have it recognized is a true honor."
Senior Megan Seibel was "ecstatic" to win the Cappie for Sound. "I had a lot of sound effects running throughout the scenes, so I think that was different from other plays," she explained. "I'm just really surprised and thrilled about winning, and I feel blessed to be part of this program."
Fairfax High
Senior Alex Nicopoulos won a Cappie last year for Comic Actress in a Musical; this year's golden trophy was for Female Vocalist. "I didn't think I'd win it a second time, so I'm astonished," she said. "But I'm so honored and so proud of the entire cast and everything they achieved. They worked so hard on the show, so this is for them."
"The Yonkers Honkers" musicians also received a Cappie for Orchestra in Fairfax's production of "Hello, Dolly." Violinist Brooke Southard said, "It's an absolute honor. It was unexpected; we have so much fun playing in the orchestra that winning this is the icing on the cake."
Viola player Abby Scripka has played in the pit orchestra two years and said it gives her "a lot of satisfaction." Added violinist Joanna Augustine: "It's an absolute joy to get to play in the pit orchestra, and it's a good feeling to win."
West Springfield Wins Acting Cappies Honor
West Springfield High received an acting honor at the 14th annual Cappies Gala, Sunday night, June 9, at the Kennedy Center in Washington, D.C. Robinson Secondary captured the Best Musical honor for "Hairspray," and Madison won Best Play for "Lend Me a Tenor."
Catherine Ariale captured the Cappie award for Lead Actress in a Play for West Springfield's production of "The Diary of Anne Frank." Afterward, the humble but jubilant, student was delighted to receive the starry statuette for her portrayal of Frank, a young Jewish girl in hiding during World War II.
"It's incredible," said Ariale. "I literally did not expect it, at all, because I'd heard how good the other shows were from a Cappies critic at my school. But it was an amazing experience, and I'm so thankful for my director, Bernie De Leo, for giving me this opportunity. I would not be here today without him."